Uniform
Our school uniform supplier is Logo Leisurewear Ltd and this is the link for you to order online:

https://www.logoleisurewear.com/schoolshop/g-m/meadowheadschool
If you have any queries/questions regarding uniform, please contact: office@logoleisurewear.com
Size Guide
(you can also download this as a PDF at the foot of this page):
Ordering for Meadowhead New Starters
You will need a dressmaker's tape measure or use string and then measure against a DIY tape measure or ruler.
Where do I need to measure?
Chest measurement needed for correct fit on:
Polo shirt, Sweatshirt, PE T-shirts and Hooded tops/Rugby shirts
• Place tape measure under the arms and measure the chest all the way around the body
• There is no need to add extra on to the measurement as the garments are designed to fit that body size
Waist measurement needed for help with ordering shorts and track bottoms;
Please note, we can usually get the correct sizing for you based on the size of top ordered.
Girls capri pants are also available in age 9/11 and age 12/13 sizes online but not shown on the order form.
It is fine to order these sizes on the order form as they are popular sizes for new starters.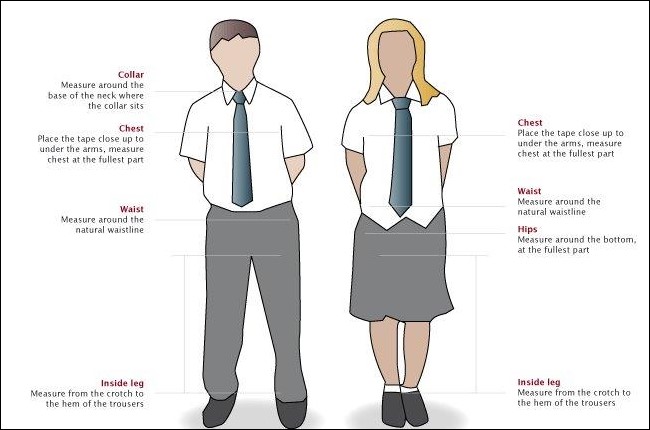 Write down your chest measurement and look at the size charts to help you select the correct sized garment.
Tip:
If your child measures a 33" to 34" inch chest, order age 11/12
If your child is measuring 34" now, and is quite tall for their age, go up to age 13
Uniform information

PE Kit Information