Trust Choir 2016
The Trust Choir goes on a musical journey around the world!
Meadowhead Community Learning Trust (MCLT) hosted our 6th annual choral concert at the beginning of March. The Trust partners' school choirs from Meadowhead, Abbey Lane, Bradway, Greenhill, Lower Meadow, Norton Free, and Woodseats Schools took part in the joint musical celebration which was also supported by our Meadowhead Community Learning Trust business partners.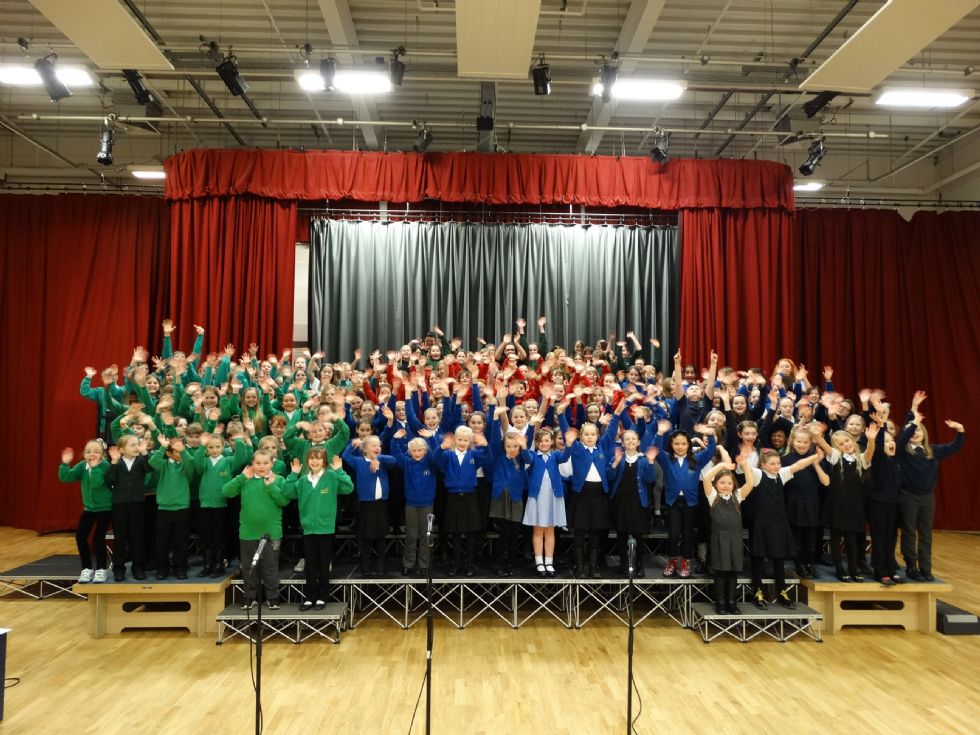 The choir - first night 1st March 2016
We were delighted to welcome on board again Steve Roberts to conduct our concert. He is the Musical director of Altrincham Choral Society, Chesterfield Philharmonic Choir, Honley Male Voice Choir and Unlimited Voices. In conjunction with our dedicated music co-ordinators from each of the 7 participating schools, Steve worked hard to help our choirs put together an uplifting ensemble of music.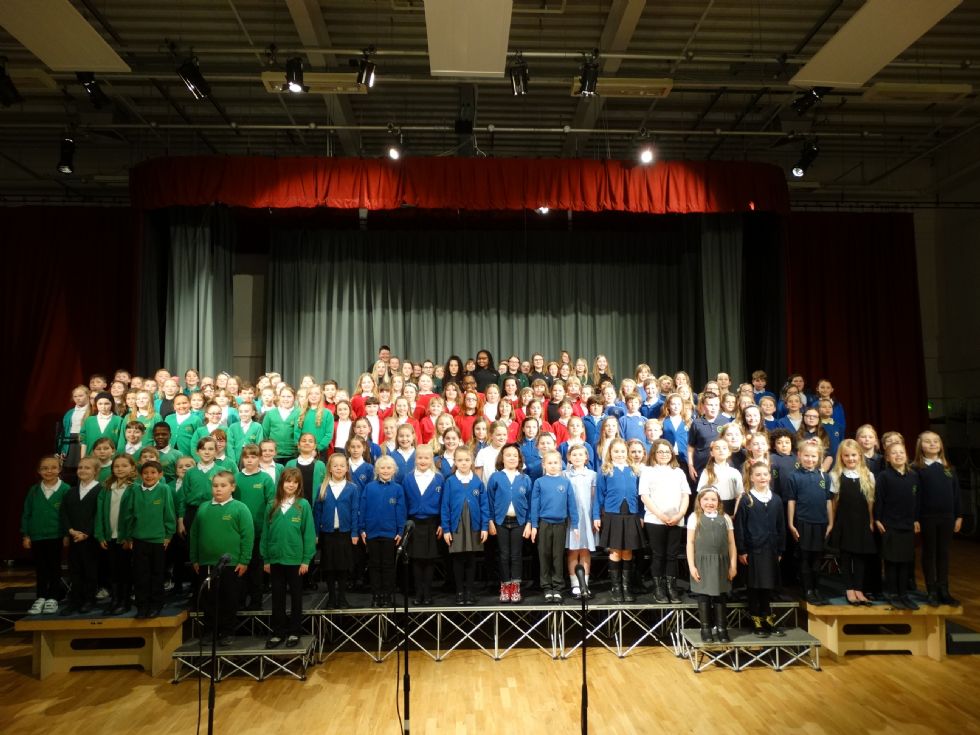 The choir - 2nd night 2nd March 2016
This year we adopted a "Music from around the world" theme with music from America, Australia, Jamaica, England, Scotland, Africa and the Caribbean. The format was changed a little this year to encourage more collaborative songs between schools and this worked really well. The concert started with pupils singing a traditional Ghanian song called 'A Keelie' whilst walking down the aisles to the stage. Following this, all the choirs sang a very moving Gary Barlow song entitled 'Sing'. The whole concert was a great success as the music moved around the world. The concert culminated with a wonderful and emotional performance of 'Something Inside So Strong'.
All funds raised from this event will go towards supporting future Trust projects which aim to raise literacy and numeracy levels of all young people aged 3-19 in the community. Last year's funding supported some valuable joint school projects such as Everyone a Writer & Journalistic challenge literacy projects, Math's fun numeracy project, and Parent reading partner training and Pupil mentor schemes.
Lower Meadow pupils signing along to the song
We would like to thank all of our MCLT members, sponsors, staff and students who have contributed to make this celebration of our young voices possible. Thank you too for supporting this community event which celebrates our young talent and the benefits of our community of Trust schools working together to create something special.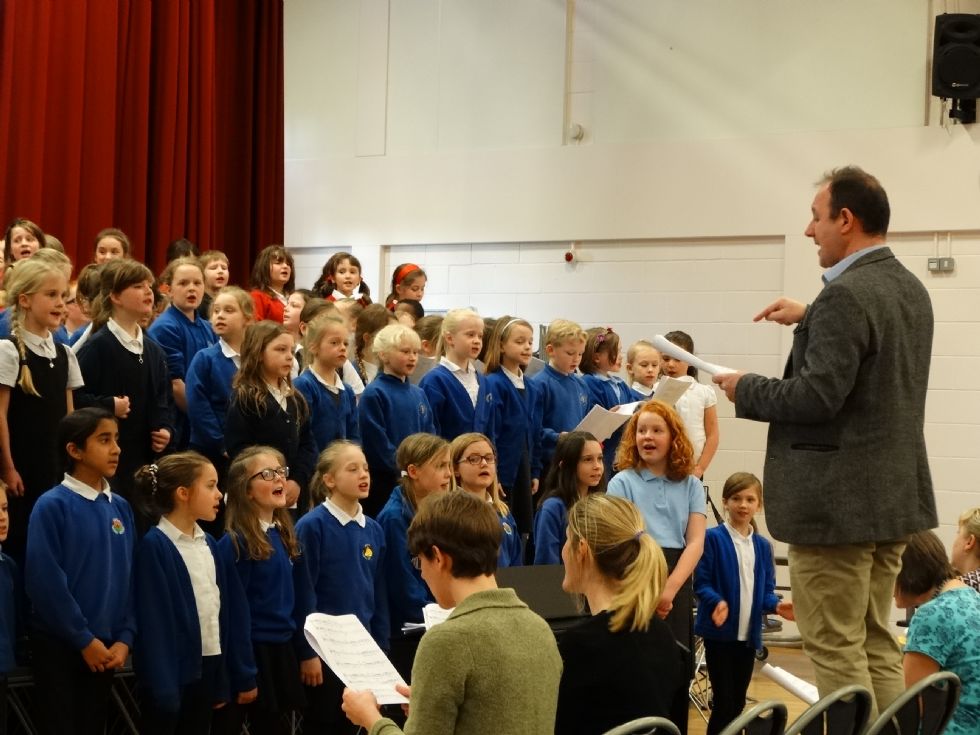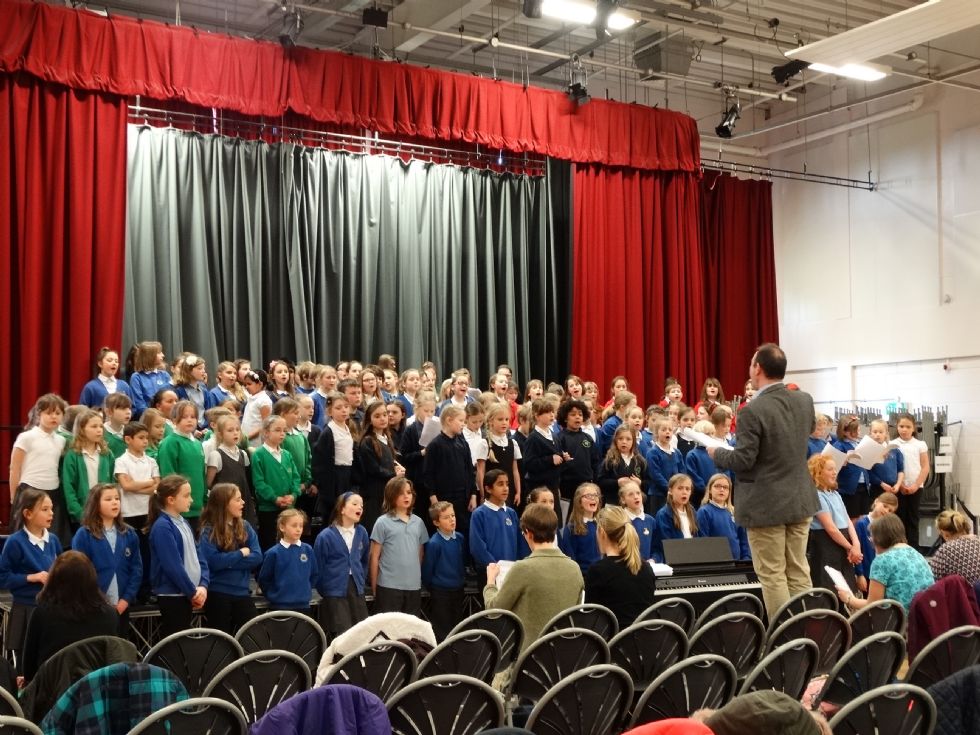 Rehearsals, led by professional conductor Steve Roberts.
We had some wonderful feedback from our feeder schools music co-ordinators:
"I've heard nothing but positive feedback from the parents since we finished last night. My children have been absolutely buzzing about it. That last rendition of 'Sing' really got to me too. Well done everyone!" Tim James, Greenhill School
"I agree with everyone, it was amazing! All the children did a fantastic job and the parents loved it, I have had so much positive feedback, and it was great to feel part of the community of schools. Can't wait for the next one!" Viki Seedhouse, Lower Meadow Primary
"Thanks and well done to all. There was a great feeling of camaraderie, this year, with us all working together so closely.We definitely feel like community of schools. Here's to the next one." Rebecca Andrew, Woodseats
"Just wanted to say a massive well done for tonight. It all worked so well and the two joint songs were so moving!" Ruth Siggs, Bradway
and on our face book page, these are just a few of the many lovely comments:
It was amazing so proud of the children, teachers & everyone involved
It was amazing! The staff all gave up their time to do something so lovely for the kids. Xx
It was a great night, everyone was fantastic
Absolutely brilliant - Greenhill choir children, you were superstars
Fantastic performance by all x