Sainsbury's Project 2013
'Try Learning something new'…..with Sainbury's
This year our Trust partner Sainsbury's has been working hard with some of our youngest students and our GCSE students on various mini-projects to help increase their knowledge of the food retail industry and increase their literacy skills.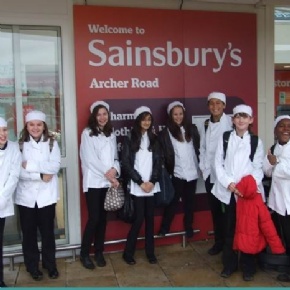 Our Y7 students were invited to visit the 'new look' store after a re-fit in the Autumn term. The students were given a guided tour by store trading Deputy (Sam Graves), and inspected all areas both behind the scenes in the warehouses and stores, to each department on the shop floor. They learnd a lot about how a large and successful food retailer operates, a workshop on cupcake decoration and important rules and regulations about food hygiene and storage. On their return to school the students then wrote balanced reviews about their new look store.
In March our GCSE Food technology students experienced a day at Sainsbury's food College in Bradford to put their existing skills & knowledge to the test and learn something new!
The aim of this Trust project was to promote literacy skills, particularly the use of specialist terms in food, which would enrich the students vocabulary when completing their Food Technology coursework/exams.
Our budding chefs attended meat, fish and Delicatessan workshops led by Sainsbury's experts, and even got to make and eat their own pizza's for lunch!
We now look forward to some new and exciting projects in the new term – watch this space for news about the 'Bakery masterclass day!