Results 2019
Key Stage 5 Results
| | |
| --- | --- |
| Headline Figures | 2019 |
| A* – B Grades (as a % of all grades achieved) | 43% |
| A* – C Grades (as a % of all grades achieved) | 75% |
| A* – E Grades (as a % of all grades achieved) | 100% |
| A – Level Average Grade per entry (of best 3 qualifications) | C+ |
| BTEC Level 3 Distinction Grade + | 52% |
| BTEC Level 3 Merit Grade + | 91% |
| BTEC Level 3 Pass Grade + | 100% |
| % of students heading to University or other Higher Education Establishments | 73% |
| % of students in apprenticeships or employment | 18% |
| % of students taking gap year | 9% |
Here is a glimpse of our A Level Results Day 2019:
Meadowhead's Sixth Formers collected the school's best ever results. The students' results for both A Level and BTEC qualifications were well above the national average and across all qualifications, there was a 100% pass rate. Following the recent strengthening of exam requirements, it is particularly pleasing that the higher attainers continue to perform well above their peers nationally.
The Headteacher, Mrs Kam Grewal-Joy said "It is our best set of results yet and shows that Meadowhead Sixth form is now an established post 16 provider. We are now seeing the impact of the changes and improvements made in the last year".
Mrs Grewal-Joy added: "This is a wonderful achievement for students, staff and governors, and is testimony to their hard work and commitment. Well done to all our students and their supportive parents. A huge thank you, also, to our dedicated staff who have worked tirelessly to help secure these successes. This is a great year for the school and for this cohort of young people in particular. As a school, we are proud of the exceptional standards reached by our Year 13 students and the ways in which they have fulfilled their potential in the sixth form. It is a proud day in the history of the school and a proud day for these youngsters and their families. We will continue to build on these successes to ensure that Meadowhead becomes the outstanding school our community deserves."
The success was spread across a range of courses and subjects: 69% of students on the school's renowned Maths course achieved at least an A grade and 50% of students on the Physics course achieved the same feat. Results were also impressive in subjects such as English Language, Geography, Biology, History, Sociology, French and German. Performance was also strong across vocational qualifications; for example, all but one student in BTEC ICT achieved a distinction.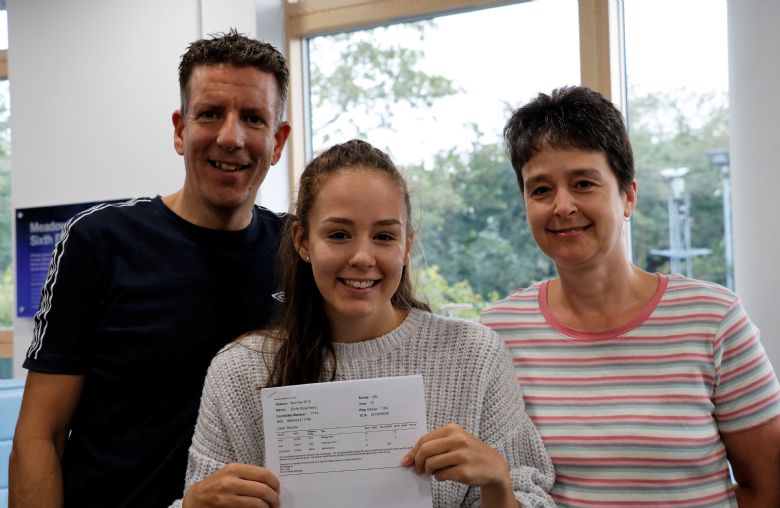 We are proud of all of our students' achievements but some particularly notable successes include:
Emily Kemp who achieved A*A*A is heading to Leicester to study Medicine while Sam Pearson-Currie (AAB) is heading to the University of Sheffield to study Physics. In humanities, Olivia Smith achieved A*A*A with an A* in EPQ and is heading to the University of Manchester to study Sociology whereas Aimee Wild (A*AB) is planning on studying Criminology.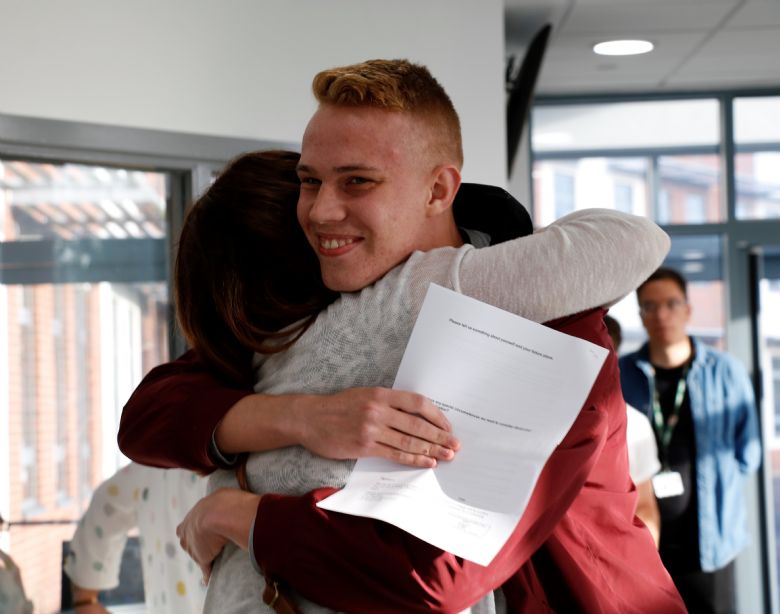 These spectacular results build on the strengths such as careers advice, curriculum offer and work with universities and employers that were identified in a recent Ofsted visit. Inspectors concluded that "these aspects illustrate the way the school is serving the needs of the local community well". Students were also incredibly positive in the survey they completed at the end of their studies. 95% of students rated the school's pastoral care as good or excellent with nearly 90% electing to recommend the school to friends or family.