Results 2015
MEADOWHEAD CELEBRATE RECORD BREAKING GCSE RESULTS!
Congratulations to all our Y11 students who have achieved excellent results at GCSE this year.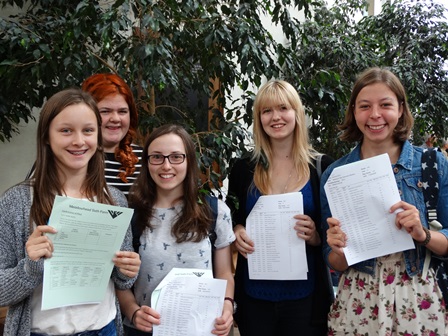 Students collected their results at 10.00am on Thursday 20th August and students and staff celebrated record breaking achievements.
The Maths A*- C results were the best ever last year and this year we have improved yet again with a record 79.2% of students achieving an A*- C in Maths.
In English 73.5 % of students achieved A*-C and many students will now go on to study English Language and English Literature at Meadowhead Sixth Form.
66% of students have achieved 5A* - C grades including English and Maths, which is an outstanding achievement, and this is 4% up on last year's result.
A record 31.8% of students achieved the English Baccalaureate with 5 A*- C grades in English, Maths, Humanities and a Language which marks a 4% improvement on last year.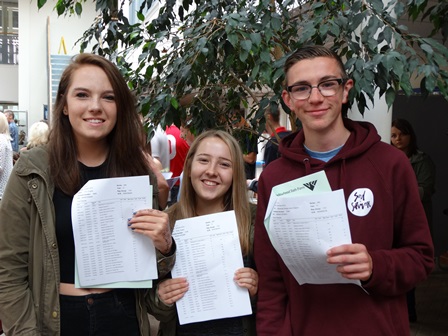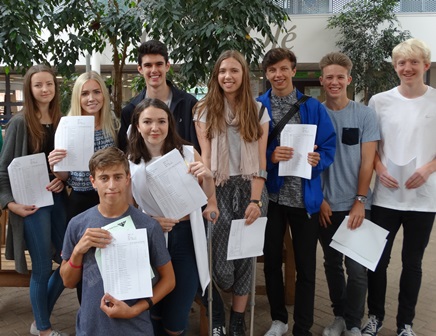 Record numbers of students have now enrolled on sixth form courses and are looking forward to the building of the new sixth form centre this year.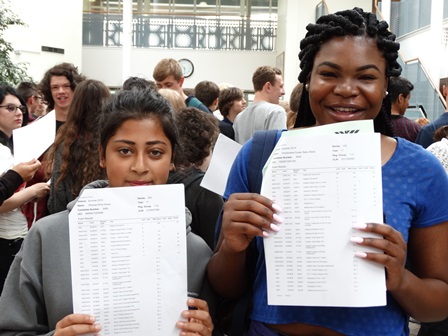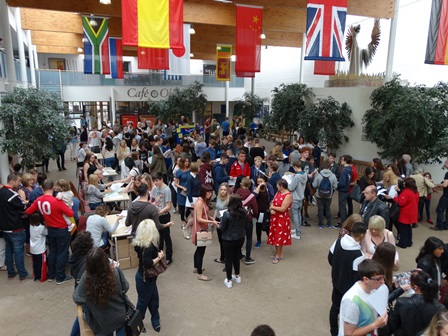 Good luck to all the students next year with their Apprenticeships, College or A Level studies and well done!
GCSE Headline figures
| | |
| --- | --- |
| | % |
| 5+ A*- C including English and Maths | 66 |
| English Baccalaureate | 31.8 |
| Expected Progress - English | 71.1 |
| Expected Progress - Maths | 75.6 |
GCSE Exam Results (by subject) 2015
| | | | |
| --- | --- | --- | --- |
| Subject | A*- C% | A*- G% | A*- A% |
| English | 72.3 | 100 | 11.7 |
| English Lit | 75.4 | 99.1 | 18.2 |
| Maths | 79.2 | 99.4 | 20.5 |
| Core Science | 79.5 | 99.2 | 16.1 |
| Additional Sci | 79.8 | 100 | 19.7 |
| Further Add Sci | 72.6 | 100 | 30.1 |
| French | 64.9 | 100 | 12.2 |
| German | 63.9 | 100 | 13.1 |
| Spanish | 53.9 | 99 | 17.6 |
| Geography | 67.6 | 100 | 26.7 |
| History | 69.9 | 99.3 | 21.9 |
| Ethics (RS) | 77.3 | 98.7 | 33.8 |
| Art | 59.1 | 95.5 | 11.4 |
| Art Textiles | 85.3 | 100 | 14.7 |
| Art 3D | 35.3 | 100 | 5.9 |
| D&T Prod Design | 58.3 | 100 | 13.9 |
| D&T Catering | 65.3 | 100 | 15.3 |
| D&T Res Mat | 32.4 | 100 | 2.7 |
| ICT | 100.0 | 100 | 50 |
| Music | 60.0 | 100 | 20 |
| Media Studies | 72.4 | 100 | 17.2 |
| Sports Studies | 69.2 | 100 | 7.7 |
| Turkish | 100.0 | 100 | 100 |
Number

OCR Nationals

Entries

P

M

D

D*

ICT National Award

57

31

6

1

0

H&SC Certificate

18

5

6

4

0
Number

BTEC

Entries

L1P

P

M

D

D*

Sport

36

0

9

13

9

5

Acting

38

0

16

15

0

7

Music

15

5

2

2

5

1

Dance

18

1

7

5

1

4

Science (Applications)

70

8

36

14

0

0

Science (Principles)

72

7

61

3

0

0