Results 2014
Congratulations to all our Y11 students who achieved outstanding results in this year's GCSE exams. Nationally results have fallen, particularly in English with new tougher examinations, but our students have once again risen to the challenge.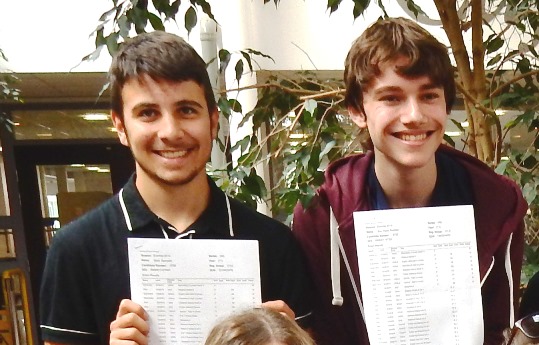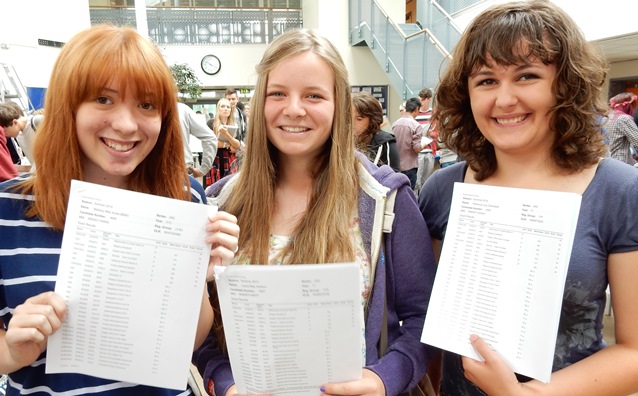 Headteacher Mr Fowler said "I am proud of the way that the students and staff met the challenge of the new courses and exams and achieved so highly, with the majority meeting or exceeding their targets."
5+ A*- C including English and Maths reached an impressive 62%, with 30% of students achieving 3 or more A* and A grades – the highest ever for the school. Students in English achieved 68% A* to C and a record 77% in Maths. In Ethics - a subject studied by all students at Meadowhead - the figures were even more impressive with 84% of students achieving an A* - C.
The Ebacc results (students who achieve 5A*-C`s in English, Maths, Humanities, Science and Languages) were again impressive at 27.6% (Nationally 22% of students achieved this in 2013).
We had some very high achieving students - 30% of whom attained 3 or more A* and A grades.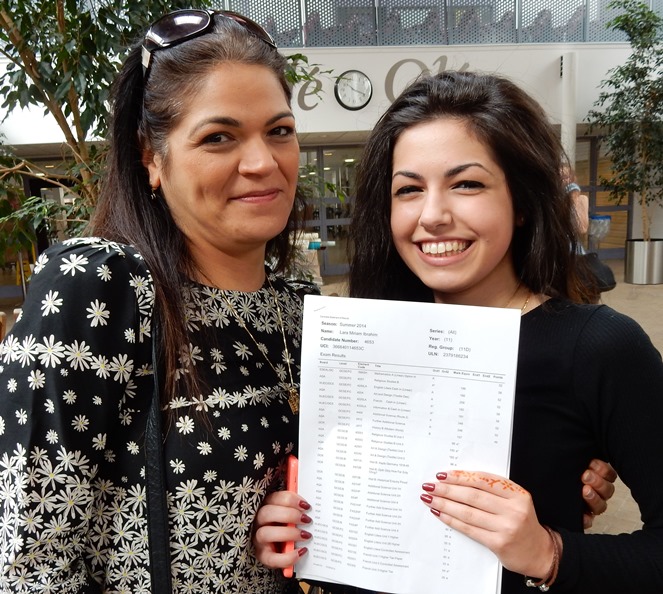 Record numbers of students this year have used these excellent results to join our expanding sixth form. Students also secured appropriate college places and apprenticeships and we wish them all well in their future studies.
Mr Eastwood
Deputy Headteacher
GCSE Headline figures
| | |
| --- | --- |
| | % |
| 5+ A*- C including English and Maths | 62% |
| English Baccalaureate | 27.6% |
| Expected Progress - English | 74.5% |
| Expected Progress - Maths | 72.1% |
GCSE Exam Results (by subject) 2014
| | | | |
| --- | --- | --- | --- |
| Subject | A*- C% | A*- G% | A*- A% |
| English | 68.6 | 100 | 16.8 |
| English Literature | 71.7 | 97.8 | 24.9 |
| Maths | 77.3 | 97.6 | 21.5 |
| Statistics | 70.4 | 96.3 | 0 |
| Single Science | 71.4 | 97.7 | 20.1 |
| Additional Science | 80.8 | 100 | 23.6 |
| Further Additional Sci | 100 | 100 | 46.9 |
| French | 59.3 | 100 | 27.1 |
| German | 47.9 | 97.9 | 8.5 |
| Spanish | 58.4 | 97.8 | 28.1 |
| Geography | 84.9 | 100 | 50.9 |
| History | 71.3 | 98.5 | 20.6 |
| Ethics (RS) | 84.1 | 98.4 | 50 |
| Art | 57.5 | 97.5 | 5 |
| Art Textiles | 79.3 | 100 | 41.4 |
| Art 3D | 66.7 | 94.4 | 44.4 |
| D&T Prod Design | 52.6 | 100 | 15.8 |
| D&T Catering | 64 | 100 | 27 |
| D&T Res Mat | 22.2 | 100 | 0 |
| ICT | 100 | 100 | 72.7 |
| Music | 90 | 100 | 0 |
| | | |
| --- | --- | --- |
| FCSE Languages | Entries | Level 1 |
| French | 27 | 27 |
| German | 15 | 15 |
| Spanish | 30 | 30 |
Number

OCR Nationals

Entries

P

M

D

D*

ICT National Award

75

42

32

1

0

H&SC Certificate

21

10

4

2
| | | | | | | |
| --- | --- | --- | --- | --- | --- | --- |
| BTEC | Entries | L1P | P | M | D | D* |
| Sport | 54 | 0 | 18 | 15 | 5 | 16 |
| Acting | 46 | 0 | 20 | 14 | 2 | 10 |
| Music | 18 | 0 | 12 | 2 | 2 | 2 |
| Art | 17 | 0 | 9 | 5 | 2 | 1 |
| Science | 86 | 7 | 56 | 23 | 0 | 0 |
You can view the A Level results in our Sixth Form section: Results 2014