Make a Difference
At Meadowhead, we place great emphasis on a rich, diverse and challenging curriculum. We want our students to develop expertise in each of the subjects they study and, as such, the content of our lessons is as ambitious as it can be.
Alongside our focus on an ambitious academic curriculum, we also place significant emphasis on student personal development.
We do not believe schools should choose between developing knowledge and skills: we want our students and alumni to be able to use the subject specific knowledge they acquire.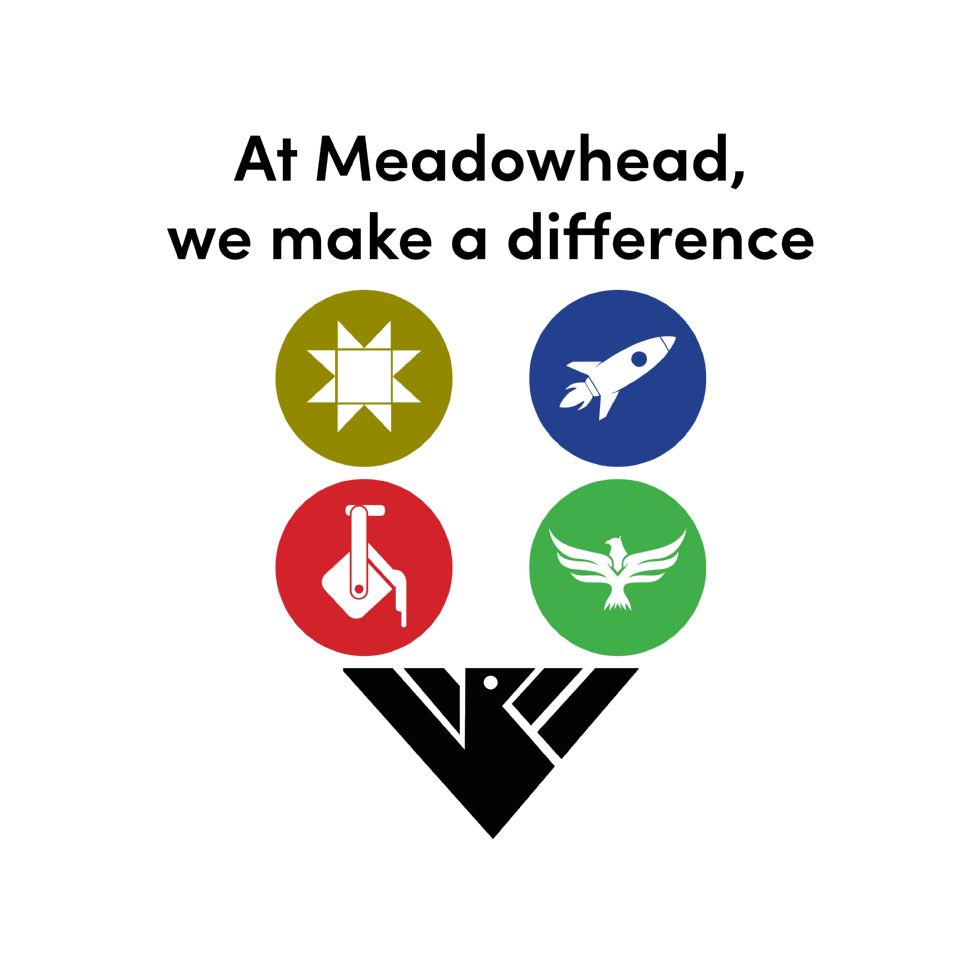 We want our students and alumni to be able to "Make a Difference"; both in their chosen careers and as citizens. This curriculum is focussed on making that aim a reality.
Ultimately, we want students to be able to 'Make a Difference'; both in their chosen careers and as citizens.
To achieve this, students will need both subject-specific knowledge as well as the skills and qualities them to enable to use it confidently. We also know that students who are well-rounded and confident in a range of settings have an increased the chance of success in the academic curriculum and are more likely to live healthy, happy and fulfilling lives.
Here we outline to everyone - students, parents, colleagues, employers - the activities that students can expect to encounter during their time at Meadowhead. It forms our school's strategy for our students' spiritual, moral, social and cultural development.
Clear Outcomes
The skills outcomes below that form the basis of our Make a Difference curriculum evolved out of the Skills Builder framework. We decided to adopt a bespoke model so we could reflect our own local priorities – especially our desire for students to have the skills to make impact and secure change now and in the future.
The Skills Outcomes were developed out of discussions with employers as part of the Meadowhead Community Learning Trust. They were refined during the Spring of 2021 through discussions with teachers. Please click on each of the skill outcomes to see further information about how we prepare students in this area.
Skill Outcome

Why is this outcome important in helping students to Make a Difference?

We want our students to be able to…

…make good decisions and be to explain them to others

… work successfully in small and large groups

… make informed and sensible choices about their health and relationships and to lead a happy fulfilling life

… learn from challenges and experiences; using these to look ahead to the future

… respond thoughtfully and imaginatively to different problems and stimulus

… make the most of the opportunities available and make decisions about their future based on the best possible information and experiences

… present their thoughts and emotions in an engaging and convincing manner

… be engaged in the world around them and aware of how to bring about change

… thrive in a range of academic and cultural environments and to have the confidence and understanding to visit or participate

… understand and empathise with people who do not share the same background as them