Lessons From Auschwitz trip
We like to share news of what our students do out of school too - please read this article about Y12 student Elizabeth's trip to Auschwitz in May this year.
My trip to Auschwitz
On Wednesday 2nd May 2018 I went to Poland with the Lessons From Auschwitz Project, and a group of similar aged teenagers from different schools, to try and change our perceptions of what happened in the Polish concentration camps. The aim of the day was to educate ourselves through real life accounts of the conditions and situations millions of people were forced into.
Once we had arrived at Kraków Airport we then travelled an hour via coach to Oświęcim. Before setting off I had many varying ideas about how the day was going to go. I had imaged it to be cold, miserable and gloomy with rain pouring down on us. However, it was the exact opposite. We spent the entire day with the sun blaring and not a cloud in sight. This had already destroyed one of our pre conceived ideas of the environment the Jews would have lived in. Despite us believing it to be cold and miserable all the time, there would have been days when it was hot just like this but the prisoners would have still had to work in this weather too.
The first place we visited was the site of the Great Synagogue. It was said to have been able to seat around 1,000 people and to have been ornamental inside. However, we are not able to see it standing because after the outbreak of war in 1939, the Great Synagogue was burnt down by the Germans. All of the Jews were removed from any position of authority and replaced by Nazis. Whilst we stood there, we looked at some pictures of what the Synagogue looked like and we listened to a Rabbi. To stand in the place of such a huge piece of history left me feeling very melancholy as the site where it once stood is now just dotted with trees. Before the war started, Oświęcim had a large Jewish community of about 58% of its population. However, despite many returning to Oświęcim after the war had ended, the current population of Jews in this town is now zero.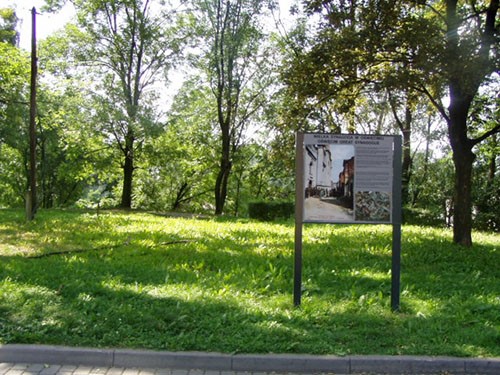 After this we went to Auschwitz-Birkenau Museum and Memorial.
We followed a guided tour around the concentration camp which evoked a silence. We were taken past the real buildings in which the prisoners were kept and made to work. I think that it is impossible to fully understand how horrible the concentration camps were unless you go and see them for yourself as the history books can't convey the sheer horror of what actually happened.
Whilst on the tour we were shown around rooms where they kept the belongings of some of the people that were taken here. This included different types of pots such as cups and bowls, the frames from glasses, shoes and suitcases that still had the names of the victims on them. I found that this was a distressing sight, especially since I located a suitcase that had my first name written on it. The silence followed us through the entirety of the tour which gave everyone time to reflect by themselves.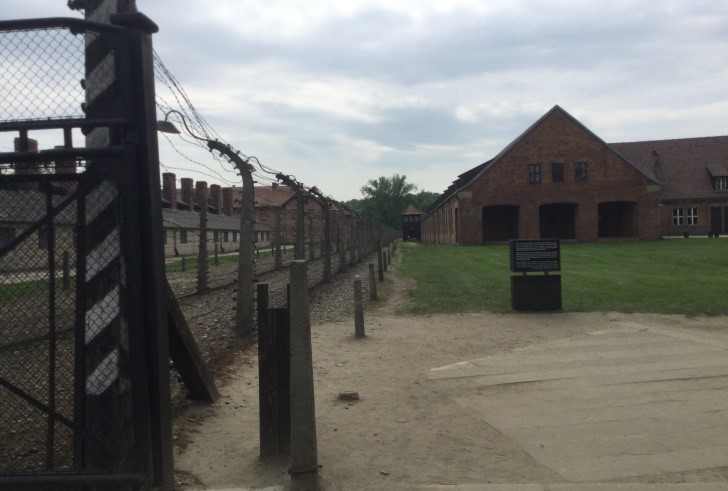 Once the tours of the concentration camp had finished, we were taken to a memorial service at the ruins of Crematoria II, Birkenau. This is where we listened to the Rabbi and then said a prayer together. Once the service had finished we each were given the opportunity to light a candle for the people who were cruelly murdered. I think that this was the perfect way to end an emotional day and allowed everyone to think about what they had seen. I know that I will never forget my time in Poland and I want to encourage other people to go and visit it too. If we don't educate people then what is stopping something like this from happening again?
By Elizabeth Goulding.