Drama at KS4
Year 9
This is part of KS4 and is an Option Choice. Y9 is a preparatory year for the students, enabling them to gain a full understanding of the BTEC Level 2 (Acting) course. Students complete mock BTEC assignments allowing them to become familiar with the BTEC set up and assessment criteria, as well as developing specific skills and confidence needed to be successful on the course. The students have 2 or 3 hours a week depending on the pathway.
Unit 1: Off The Rails.
In this unit, students will study the play 'Off the Rails', which tackles the serious issues of anti-social behaviour and the peer pressure that often accompanies it. Students will follow the story of Scott, Mel and David and focus in on particular scenes. Students will devise original work based on the themes and characters and perform a chosen, rehearsed extract from the play, for assessment.
Unit 2: 'Romeo and Juliet' – Shakespeare.
In this unit, students will gain knowledge and understanding of the plot and characters of 'Romeo and Juliet'. They will create original performances based on the play and experiment with performing Shakespeare's text. Students will also gain confidence and familiarity with Shakespeare's challenging language and develop a range of performance skills including, working with script, improvisation and vocal delivery of a role.
Unit 3: The Titanic – exploring the work of Bertolt Brecht.
In this unit, students will explore the work of the practitioner Brecht through a study of the events surrounding the sinking of 'Titanic'. Students will gain an understanding of his style of theatre and be able to use several Brechtian theatrical conventions and techniques. Students will have a wider knowledge and understanding of the event and be able to use this to form opinions and create drama.
Unit 4: Junk
In this unit, students will gain a comprehensive knowledge of the play 'Junk' by Melvin Burgess and explore the themes within it. Junk deals with the social issues of drugs, running away from home, teenage pregnancy and being homeless. Students will continue to develop a range of drama techniques and skills, including; direct address, performing monologues and multi-role. Students will also begin to understand the demands of an actor when preparing for a performance.
Unit 5: Totally Over You
In this unit, students will explore Mark Ravenhill's play 'Totally Over You'. It is a play which explores the world of instant celebrity as well as presenting how fame-hungry society can be. Students will experiment with working in a Naturalistic style and thoroughly prepare for your role by taking part in character workshops. Students will gain experience of performing in front of a live audience.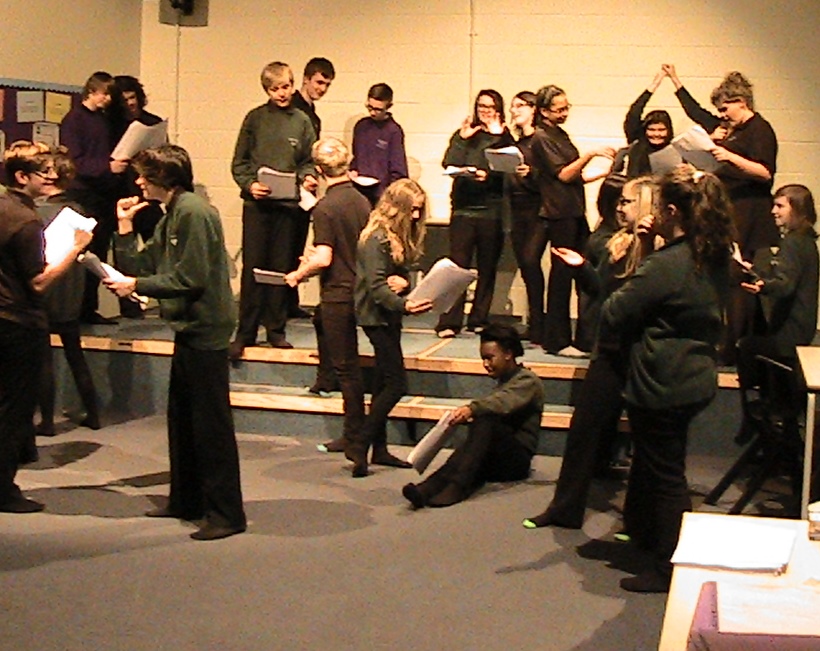 EDEXCEL BTEC Level 1/2 Tech Award Performing Arts (Acting)
Why choose the BTEC Tech award in Performing Arts?
Develop key skills that prove aptitude in Performing Arts, such as reproducing repertoire or responding to stimuli
Explore the processes that underpin effective ways of working in the Performing Arts, such as development of ideas, rehearsal and performance.
Gain knowledge that underpins effective use of skills, process and attitudes in the sector, such as roles, responsibilities, performance disciplines and styles
Reflect on our own performances and the work of others.
How will I be assessed?
The Edexcel BTEC Level 1/ Level 2 Tech Award in Performing Arts is taught over 120 guided learning hours (GLH). It has core and specialist units.
Learners must complete both core (mandatory) units, plus a further unit for a total of 120 GLH.
Grades awarded are Pass, Merit, Distinction and Distinction *.
| | | | |
| --- | --- | --- | --- |
| | Number | Assessment method | Unit & GLH |
| Component titles | 1 | Internal | Exploring the Performing Arts – 36 GLH, 30% |
| | 2 | Internal | Developing skills and techniques in the Performing Arts – 36 GLH, 30% |
| | 3 | External | Performing to a brief – 48 GLH, 40% |
What skills do I need?
The confidence to perform on your own, in groups and in front of others.
To be able to work in group situations in a cooperative manner
To be able to generate creative ideas and enjoy exploring and developing them.
To be able to evaluate your own work and the work of others constructively.
Lots of energy, enthusiasm and commitment to the subject, as you will be completing research and written evidence in conjunction with the practical work.
Where will I find more information?
Please come and see Mrs Masson-Wilson or Ms Pollard
Any other essential information:
This course can lead to EDEXCEL BTEC Level 3 Nationals in Performing Arts, 'A' Level courses and Degree.
Students can only do one of BTEC Level 2 Performing Arts: Acting or Dance