Diamond Awards and Celebration Assemblies
At the end of the Spring Term we celebrated students' achievements, efforts and positive attitude with the Diamond Award Ceremony for students who have gained 100 Gold awards from staff. Special mention goes to the 3 students pictured below with Mr Fowler, Headteacher, who each received a Double Diamond Award, marking their 200th Gold Award!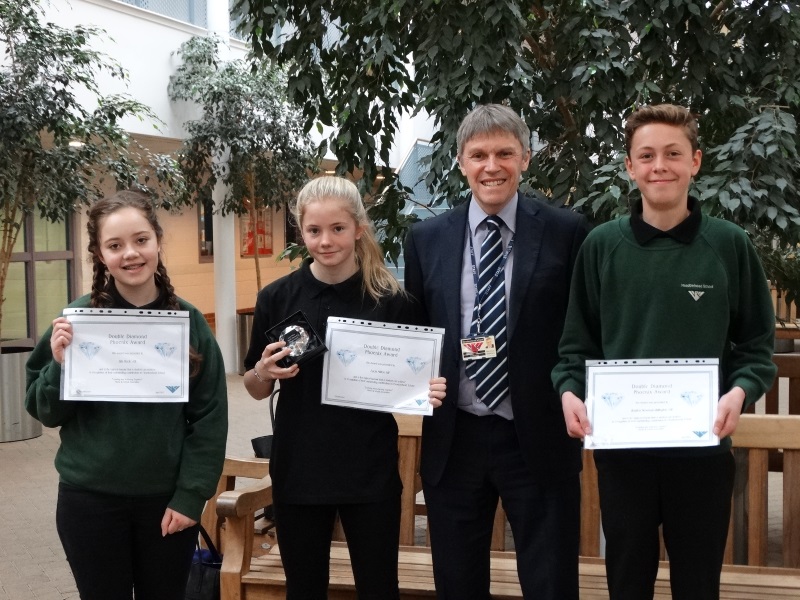 In the hall we now have a 'wall of fame' for students who have been given a Diamond Award - we look forward to filling the walls! Keep up the good work everyone.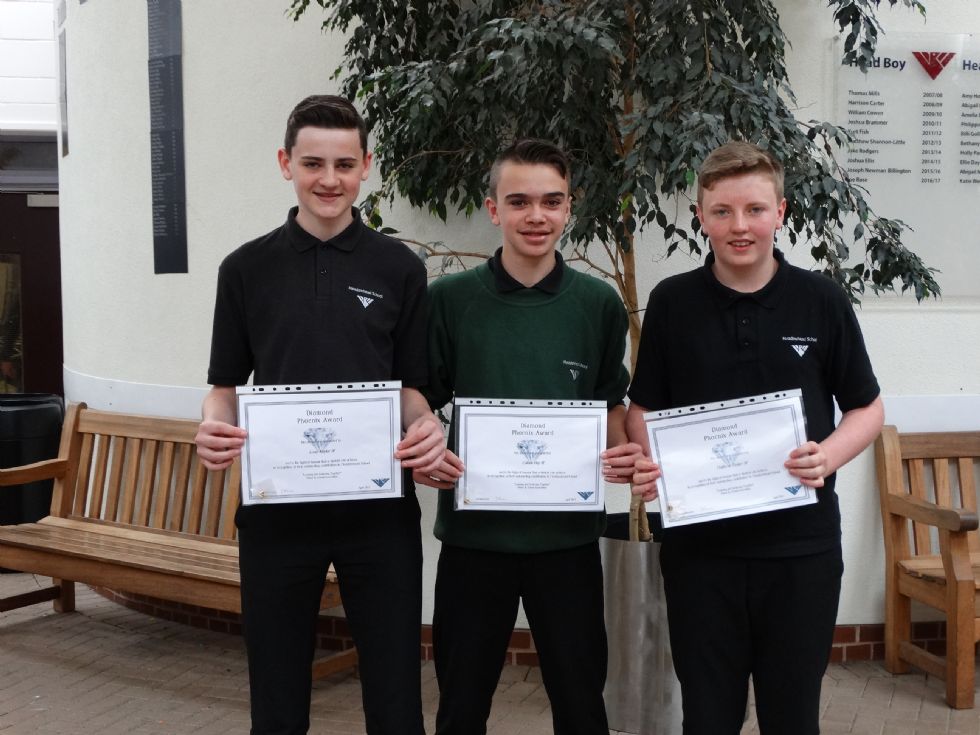 There were lots of photo opportunities after the Diamond Awards for families and friends to capture this moment!
In the Celebration Assemblies nominated students also received an award or certificate, with prizes for 100% attendance, having the most number of competences, never being late and no C3s. Well done everyone! 
In the Y7 assembly, it was lovely to see our Y7s receiving their awards for excellent behaviour, attendance and punctuality both as individuals and for their forms. Also joining the assembly were subject teachers who marked the achievements in their areas too. Mr Pitman and the student Sports Leaders shared the excellent sporting success of Y7s representing Meadowhead across the city.  
Well done to all the students who were eligible for the prize draws for those with 100% attendance, never being late and no C3s - each received a £10 Meadowhall voucher. Forms were also praised for:
Highest Attendance: 9B, 10D & 11G
Highest Competencies: 9F, 10L & 11I
Fewest Cs: 9I, 10D & 11B
Y9 - names were pulled out of a hat by fellow students, with much anticipation! Well done to all those successful.
Y10 - 100% attendance:- the winning students are:
Megan Hawkins
Lucy Clayton
Holly Colton
Y10 - never late:
Travis Faulkner
Lucy Camm
Kaylie Chappell
Y10 - no C3's
Jade Mitchell
James Ross
George Rodgers
Y11 - 74 students have continued to achieve 100% attendance. The winning students are:
Jack Crutchley
Hannah Jones
Sadie Clark
Y11 - 249 students have not received a C3 in Y11. The winning students are:
Casey Carruthers
Cameron Sargeant
Cameron Frith
Y11 - 88 students have never been late to AM/PM or lessons in Y11 the winning students are:
Stephen Cole
Alice Shearstone
Lucy Percival