Diamond Awards - May 2021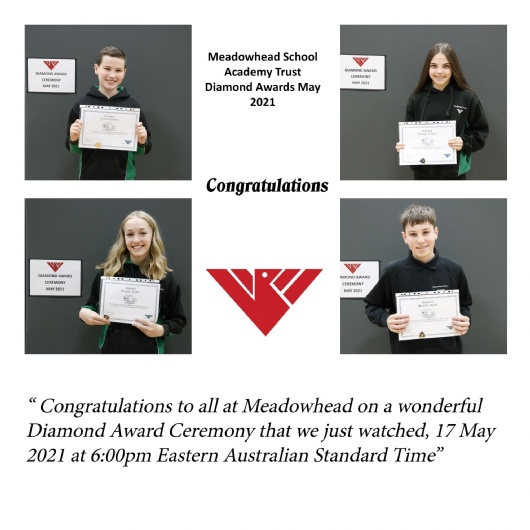 Very well done to all our students who received a Diamond or Double Diamond Award at the end of May 2021 in a series of special ceremonies broadcast live to family and friends. Thanks to all our families who supported them by watching the live stream – we even had relatives viewing in Australia!
Due to the Covid-19 restrictions, each year group had their own ceremony with an introduction from their Head of Year and a closing from Mrs Grewal-Joy. Students who have collected 500 reward points were presented with the Diamond Award certificate and badge. Those with 1000 points received their Double Diamond certificate and special engraved paperweight.
We feel it is very important to recognise the achievements of these students, who are great ambassadors for this school. These are not one offs, but are continuous efforts and positive contributions that they each make to this school community over time.
"You are our most outstanding, exceptional young people in our school.......Aim high and you will achieve great things. We are incredibly proud of what you have achieved thus far, but it is nothing compared to what we think you're going to achieve in the future" Mrs Grewal-Joy
Picture below are just some of the students receiving an award - we presented a Diamond or Double Diamond to over 280 students from Y8 - Y10