Sheffield Schools Trampolining Championships 2018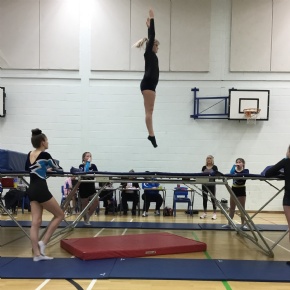 A fantastic set of results for our gymnasts! Huge congratulations to our U12 Boys Novice team who came 1st, and to our U13 & U19 Girls Closed team and our U13 Girls Novice A team who came 2nd! Massive congratulations to Ben Senior, Annie Miles, and Tom Bentley who all won Individual 1st. Please click the image for full results....
The Sheffield Schools Trampolining Championships took place at Meadowhead School on Sunday 29th April 2018
210 competitors from 9 Sheffield schools of all ages took part.
Meadowhead entered 42 competitors in 8 competitions and the results are as follows:
U12 GIRLS NOVICE

Meadowhead 'A' Team

Ruby Bowler
Eleanor Goodwin
Bo Bayne
Sophie Stockdale

Team was 3rd !!!

Meadowhead 'B' Team

Abigail Herring
Eva Gutierrez
Katie Munday
Sophie Wilson

Team was 7th

U12 BOYS NOVICE

Ben Senior – 1st
Isaac Washington Scott – 2nd
Joshua Hill – 3rd
Lucas Wise

Team was 1st !!!

U13 GIRLS NOVICE

Meadowhead 'A' Team

Annie Miles – 1st
Esme Davies
Grace Stringer
Meadow Crowther

Team was 2nd!!!

Meadowhead 'B' Team

Megan Hunter
Arzoo Rizwan
Heidi Hunter
Isabelle Parsons

Team was 3rd!!!

U13 GIRLS CLOSED

Ally Booker – 2nd
Isobel Church
Niamb Selby
Hannah Blake

Team was 2nd!!!

U13 BOYS CLOSED

U15 GIRLS ELITE

U15 GIRLS CLOSED

Laura Dumm
Amy Byers
Jessica White
Miah Straw

Team was 4th

Meadowhead 'B' Team

Grace Wilson
Lois Ratcliffe
Katie Howard

Team was 3rd!!!

U19 GIRLS CLOSED

Meadowhead 'A' team

Jess Kent
Leonie Hasannali
Hannah Slack
Millie Edey

Team was 2nd!!!