Full STEAM Ahead Erasmus project gets off to a flying start!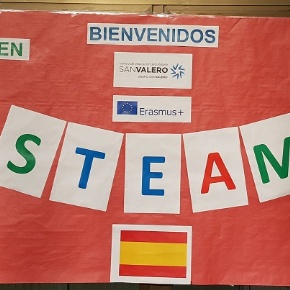 We have been lucky enough to secure Erasmus+ funding to run a new school partnership project entitled Full Steam Ahead: Creating teenage ambassadors of Science, Technology, engineering, Arts and Maths.
We have been lucky enough to secure Erasmus+ funding to run a new school partnership project entitled Full Steam Ahead: Creating teenage ambassadors of Science, Technology, engineering, Arts and Maths.
For the next 3 academic years, our 25 strong teams of Y9 ambassadors from 3 partner schools – Meadowhead, Centro San Valero (Spain), and Gymnasium auf de Karthause (Koblenz, Germany) will explore careers and skills related to these STEAM subjects with support from staff, other education and business partners in all 3 countries. These students will experience exchange visits to Spain or Germany, then act as ambassadors at various school events to encourage younger peers to engage and ignite their passion for the same subjects and the skills needed for jobs in these industries for the future.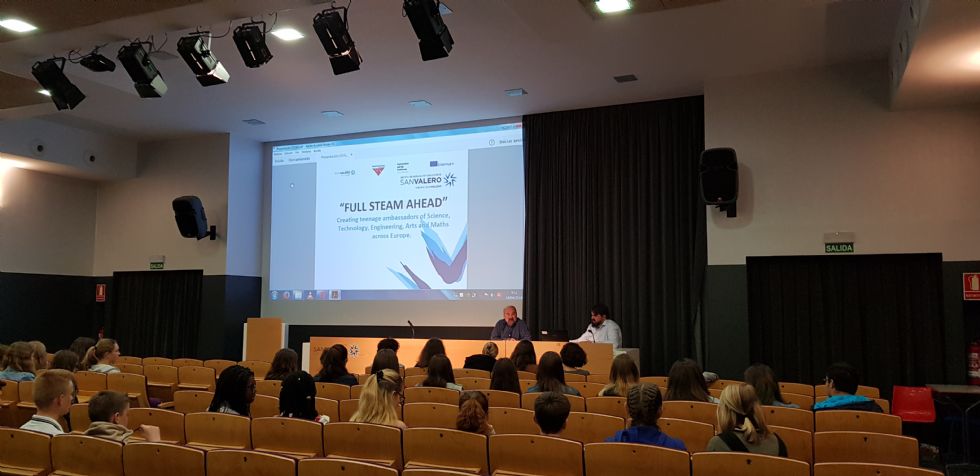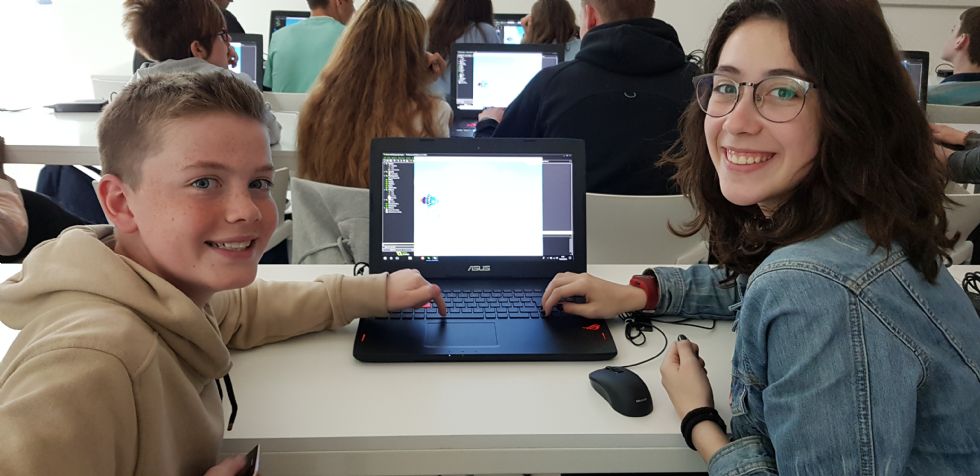 In the Autumn term, we invited Y9 students to apply in writing for their place on the team of ambassadors, and then undergo an interview process with staff to ensure they were aware of the work ahead and were motivated to become good ambassadors. We successfully recruited a fantastic team of 25 student ambassadors who study the full range of STEAM subjects at GCSE between them, so we are confident that they will make excellent progress and strong ambassadors in the near future. In Spring, their training began…..!!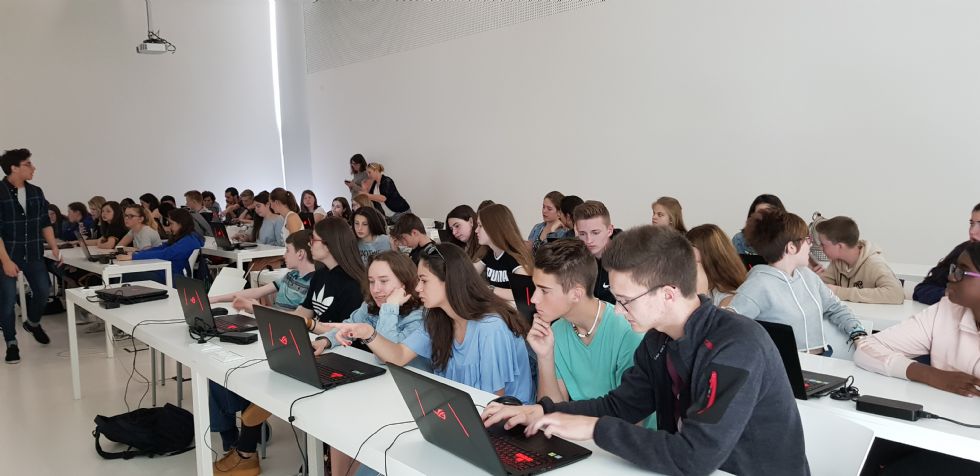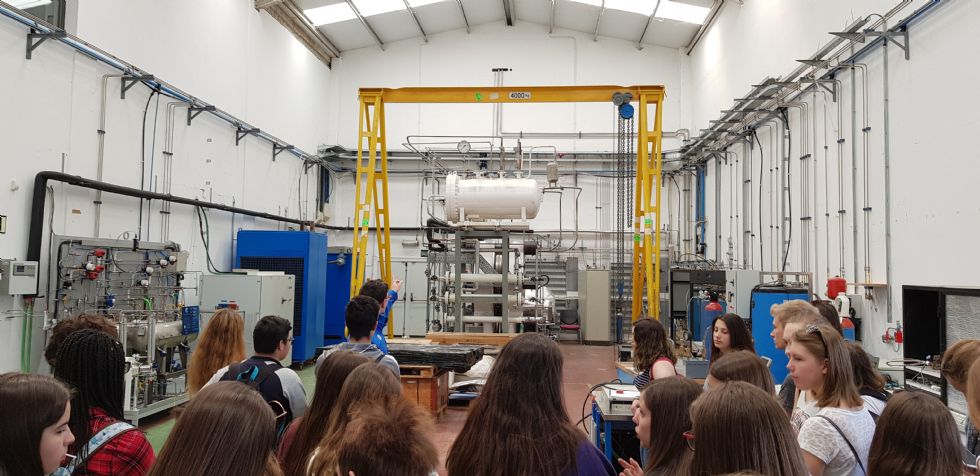 Activities for the UK ambassadors so far have included a variety of after school club workshops exploring branding, designing logos, posters, graphics and animation, as well as out of school visits to STEAM related organisations and festivals. Sheffield Hallam design illustration students supported our ambassadors with their initial design work, as well as Black Eye Project business partner who led a workshop on branding and logo design to help them design their own project logos.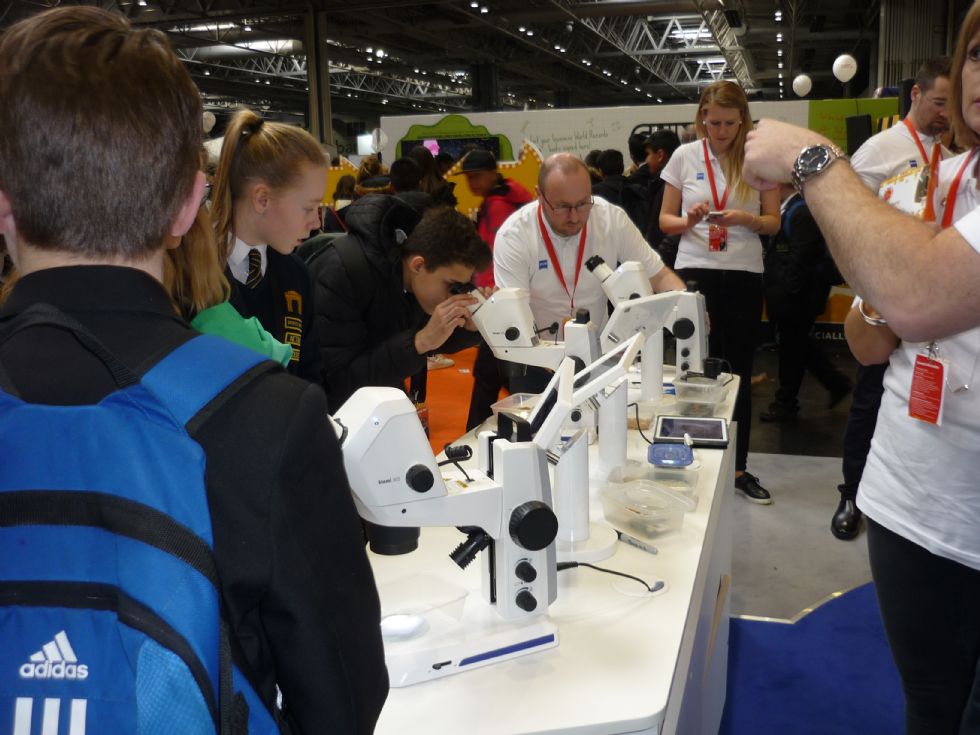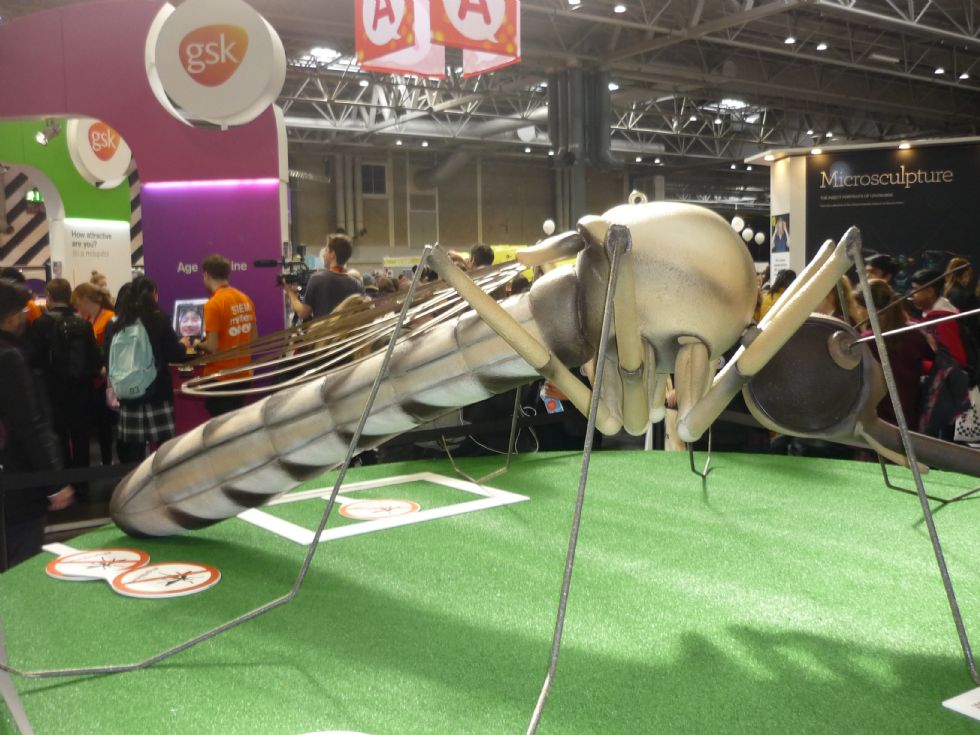 In March 2018, we took 25 STEAM ambassadors of the Erasmus team to NEC Birmingham to attend the largest celebration of science, technology, engineering and maths (STEM) in the UK, The Big Bang UK Young Scientists & Engineers Fair. The Big Bang Fair is an award-winning combination of exciting theatre shows, interactive workshops and exhibits and careers information from STEM professionals.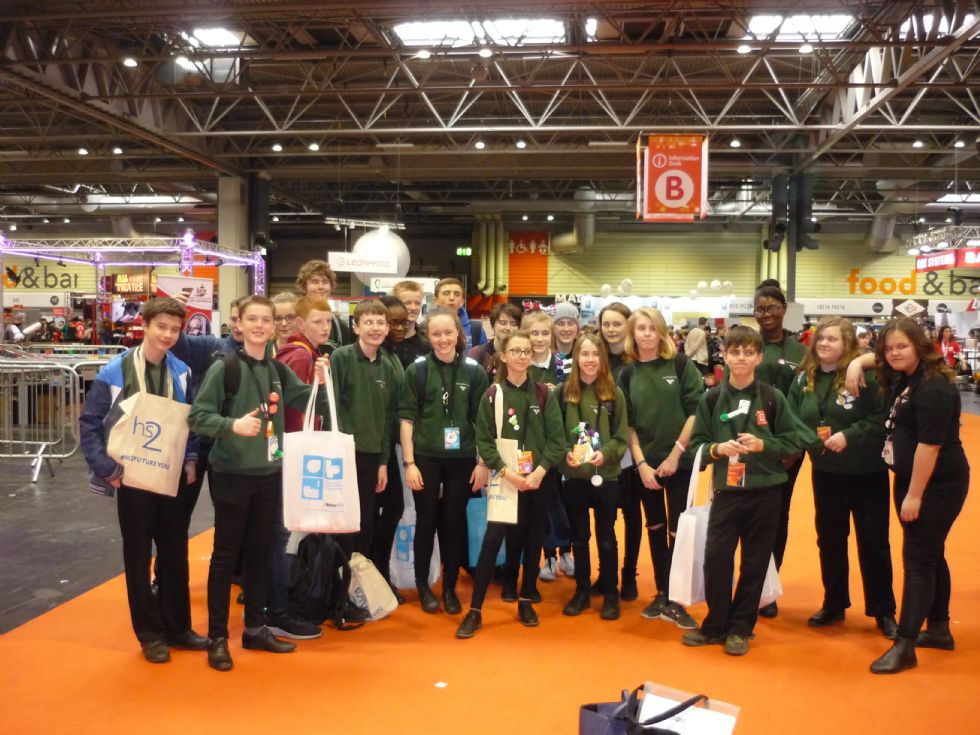 This was their first trip as a whole group and was a great success. They not only thoroughly enjoyed the trip, but also participated well in all the activities that were on offer.
"Before the trip to Birmingham I have always wanted to be some kind of scientist, but when I got into Year 9, it became difficult, so I kind of got discouraged. But after going to the Big Bang fair it's like a new beginning of Science for me and I got to know new things about health too, and now I know I want to be a scientist thanks to this trip" Somtochi
"The Big Bang fair provided lots of unique opportunities to use things like virtual reality and programmes alongside skills we are taught at school" Isaac & Emma
"I liked this trip because it's nice to hear about jobs in the industry that are more specific than just a Doctor, Nurse and teacher" Katie
Students were exemplary in their behaviour and conduct. They had a brilliant time and went away with a wider understanding of the vast number of jobs available within STEAM subjects. Students got involved with a variety of interactive activities. This gave them an insight into the current applications and recent advances made in the STEAM subjects.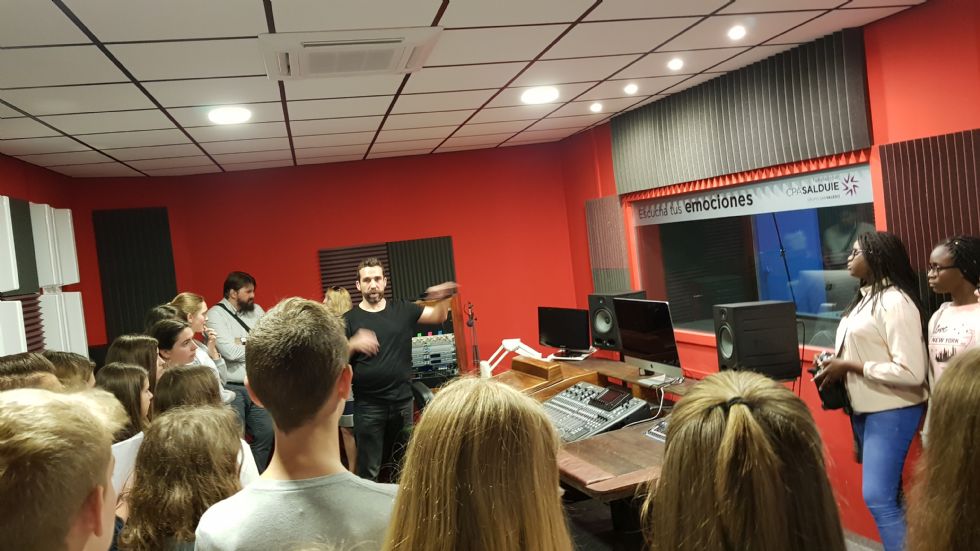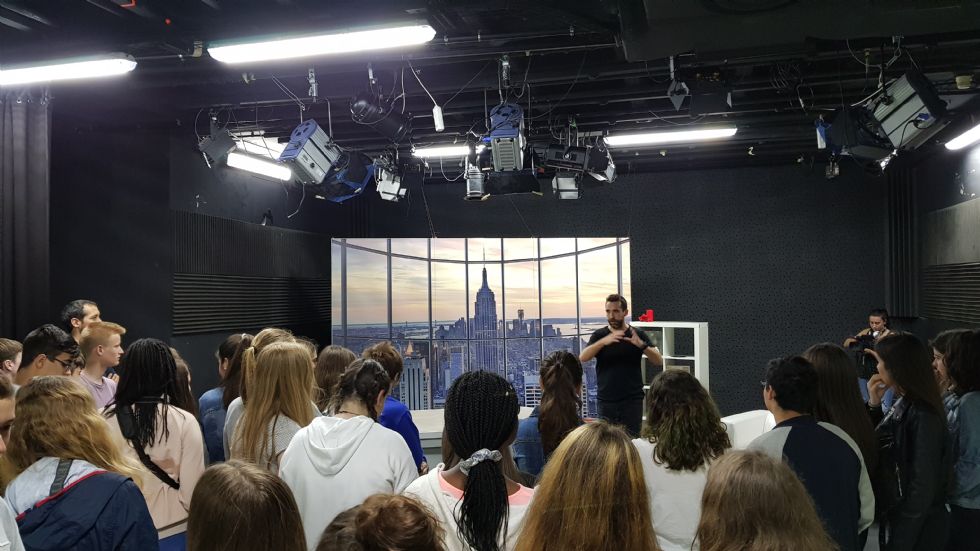 In April, and full of excitement, and some trepidation, the first ten of our Y9 STEAM Ambassador team set off from school en route to our Spanish partner school, Centro San Valero, Zaragoza for the first international experience of this three-year Erasmus project.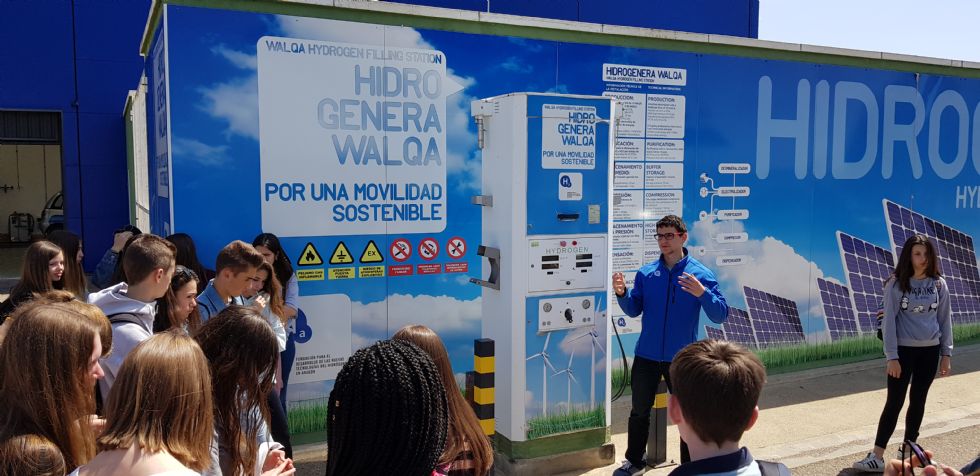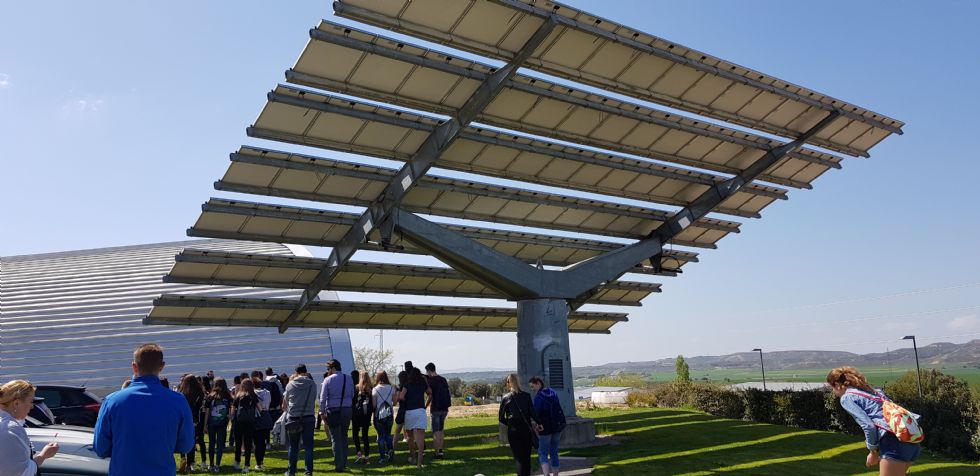 For some, it was their first trip abroad or their first time on a plane. Others were nervous about meeting their Spanish partners and living in a new home for eight days.
'At first, I was nervous because I thought it was going to be awkward, but it was really fun actually.' Serena
The Spanish school arranged an action-packed schedule for the week featuring technology workshops and masterclasses, creative-thinking activities and lots of chance to work with students from Spain and Germany. Students learnt about 3D printing, pneumatics, electricity and big data, along with the skills and competencies they will need in the workplace and as STEAM Ambassadors.
'This week was very informative and a new experience for me as I've never been on an exchange before. We learnt lots of work techniques and competencies, along with making new friends.' Leo
The group also enjoyed visits to a range of organisations linked to STEAM subjects including:
ETOPIA Centre for Art & Technology where they learnt about the use of technology in various applications such as 3D printing; the University of San Jorge where they learnt how to design a video game with their partners; Walqa Technology Park where they learnt about renewable energy and the development of Hydrogen; and CPA Salduie Audiovisual Production Centre where they recorded their own video diary summary of the week using their state of the art recording facilities.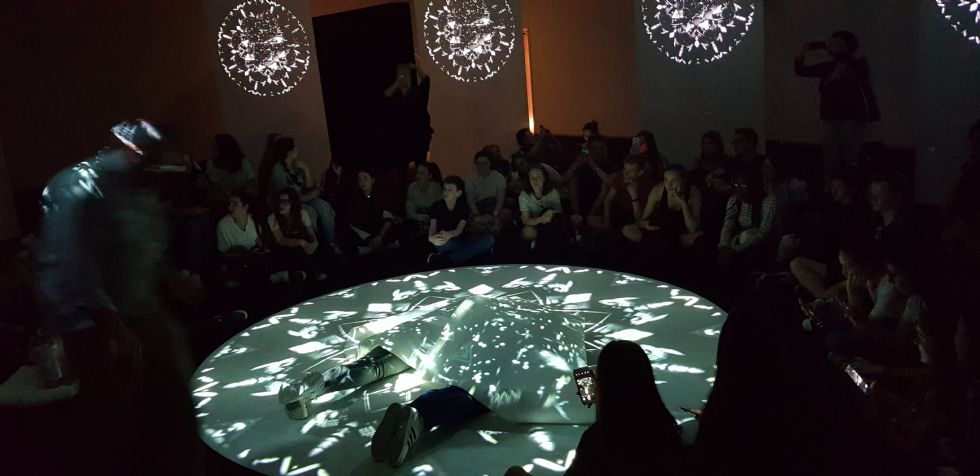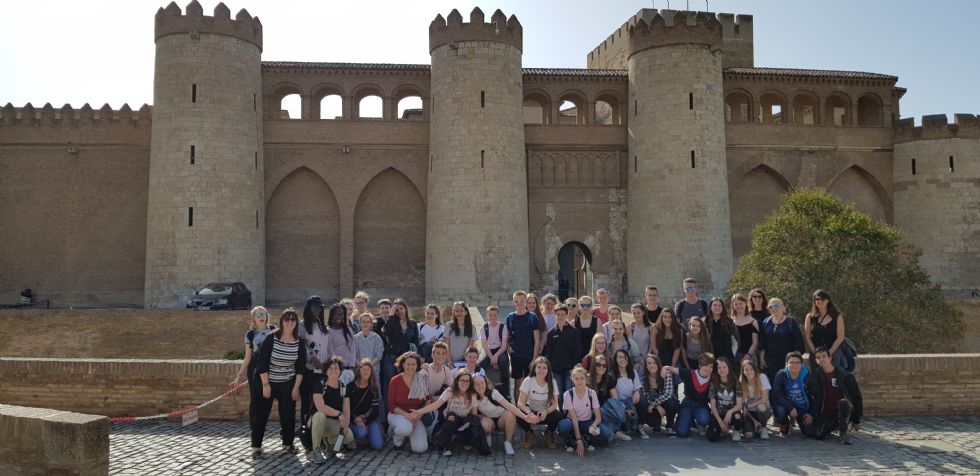 Cultural activities included a visit to romanesque Loarre Castle, and a Moorish palace, home of the local government, La Aljafería, as well as getting involved in the traditional cultural festivities for the San Jorge bank holiday Monday.
'Overall, I have really enjoyed this time. My favourite parts were the visits to the Aljaferia Palace and the Loarre Castle, but I also enjoyed the social aspects of the visit, and I learnt a lot from the workshops and masterclasses. I look forward to continuing my role as a STEAM Ambassador.' Isaac
At the end of the week the Spanish team created a google survey with around 25 logos designed by the 3 teams of Spanish, English and German ambassadors, and each student had to vote for their favourite design to choose a winner. Congratulations to team Germany who won, with team UK and Spain in joint second place, so the winning logo will now represent the entire Full Steam ahead project.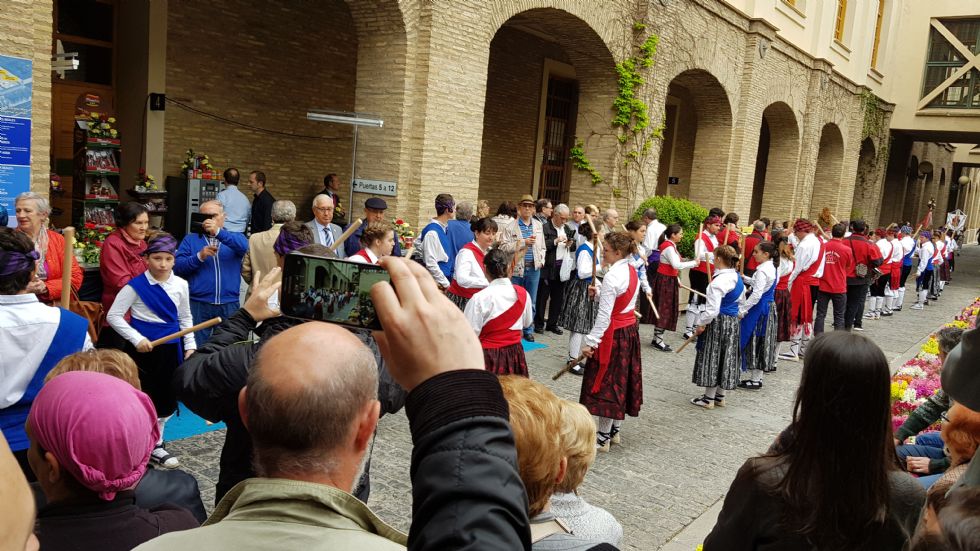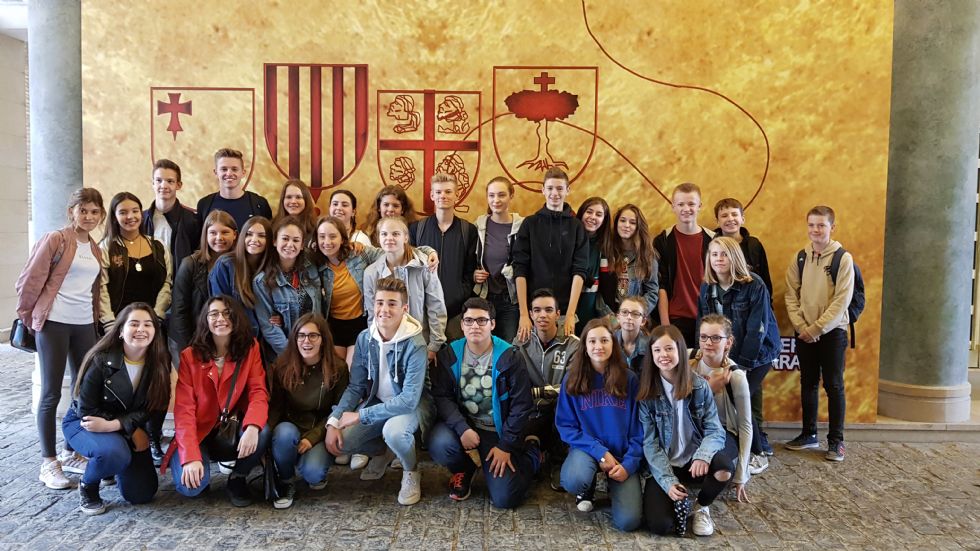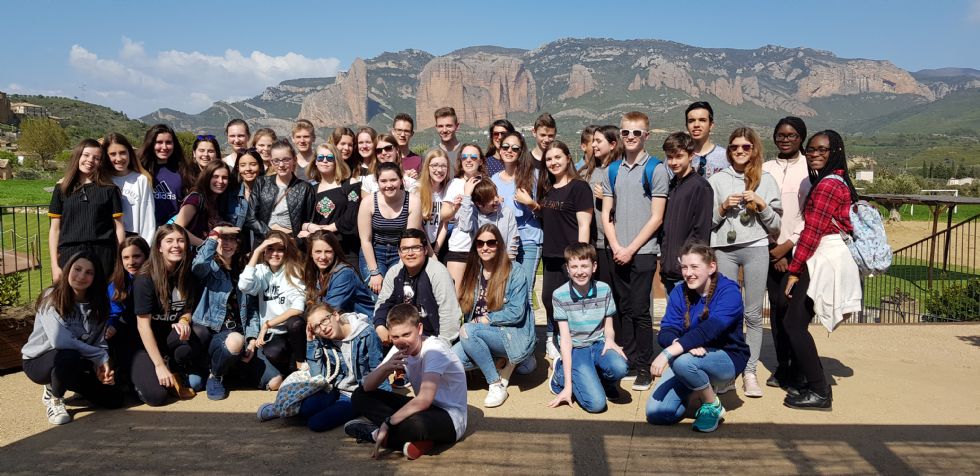 The students returned to the UK with lots of new knowledge and memories, greater cultural awareness and plenty of new friends, all ready to continue their roles as STEAM Ambassadors.
Our pupils were staying with their host families, and the Spanish families ate very late- sometimes 10pm! However, when food eventually did arrive at least there was plenty of it- sometimes as many as 5 dishes of different tapas. We had glorious weather all week and spent time exploring the beautiful sights that the county of Aragón (the region of Spain in which Zaragoza resides) has to offer.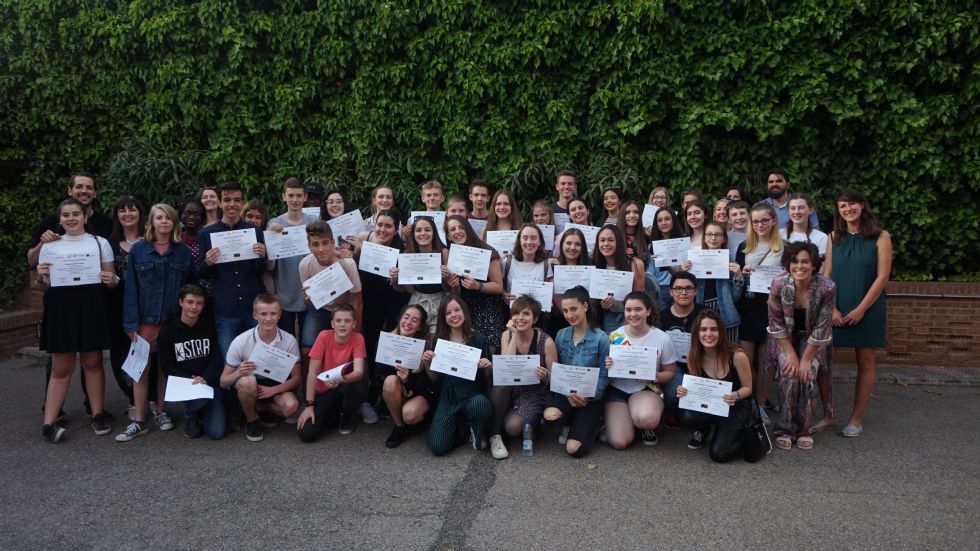 On the last day we celebrated by holding a quiz about the information the ambassadors had learned, and the Spanish families organised a huge party for all of us with homemade Spanish sweet and savoury treats. The Spanish families and staff were extremely generous people, some of them even tearful when they said goodbye to their child's English or German partner as we waved them off at the airport.
"I have enjoyed everything this week, especially making new friends and I love them all. It was hard to say goodbye" Oliver
In the summer term our ambassadors enjoyed an interactive visit to the famous annual Sheffield Documentary Festival, visiting the Alternate Realities exhibit at Trafalgar warehouse to explore alternate reality stories told creatively through various media from virtual reality to old video game technology.
Students were asked to describe their experience in 3 words. Here are some of them "weird, interesting, unusual, surreal, emotional, eye-opening, and even dystopian!
"I admired the range of stories told by a range of people in a wide variety of ways"
We ended our busy year with a trip to the Bradford Science and Media museum to enjoy some interactive workshops and installations and a special viewing at the IMAX cinema of a documentary- Dream Big: Engineering Our World - a first film of its kind for IMAX and giant screen theatres that will transform how we think about engineering. From the Great Wall of China and the world's tallest buildings to underwater robots, solar cars and smart, sustainable cities, Dream Big celebrates the human ingenuity behind engineering marvels big and small, and shows how engineers push the limits of innovation in unexpected and amazing ways.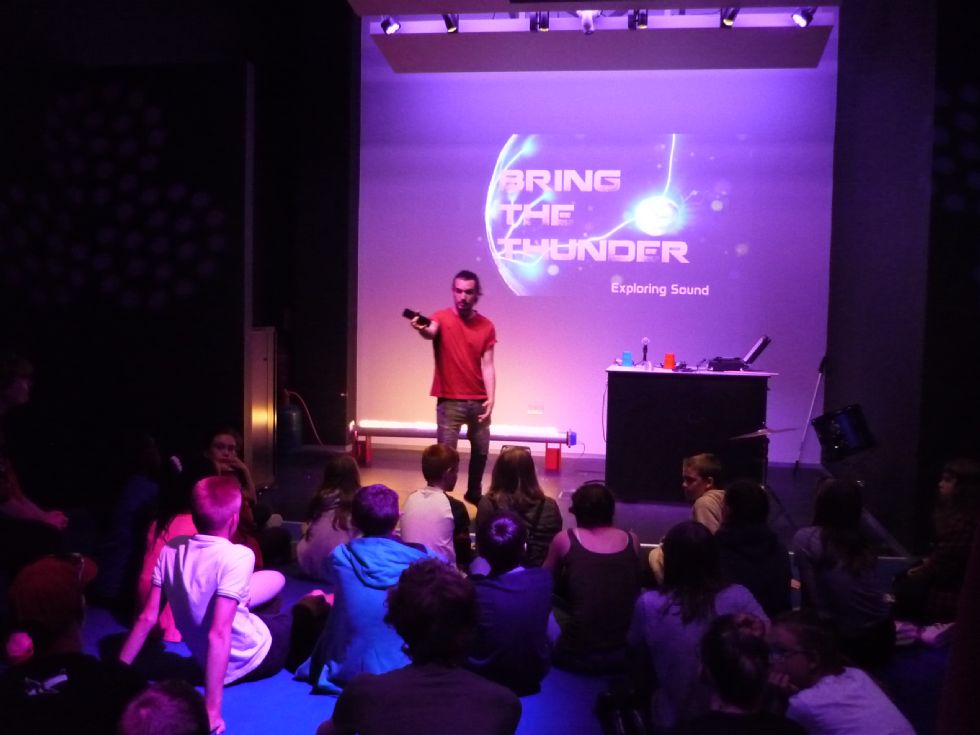 All students enjoyed the visit, especially the IMAX film which inspired them to think about a career in engineering, and the Wonderlab interactive science workshop on sound, not to mention the retro video game arcade complete with old arcade games from the 80's to play on!
"I think the opportunities (that the project allows) are great and educational. I think that it will help me a lot in the future. " Izzy
"The trips we took (all of them) and the logo design workshops were my favourite activities as I got to learn new things during the experiences." Lily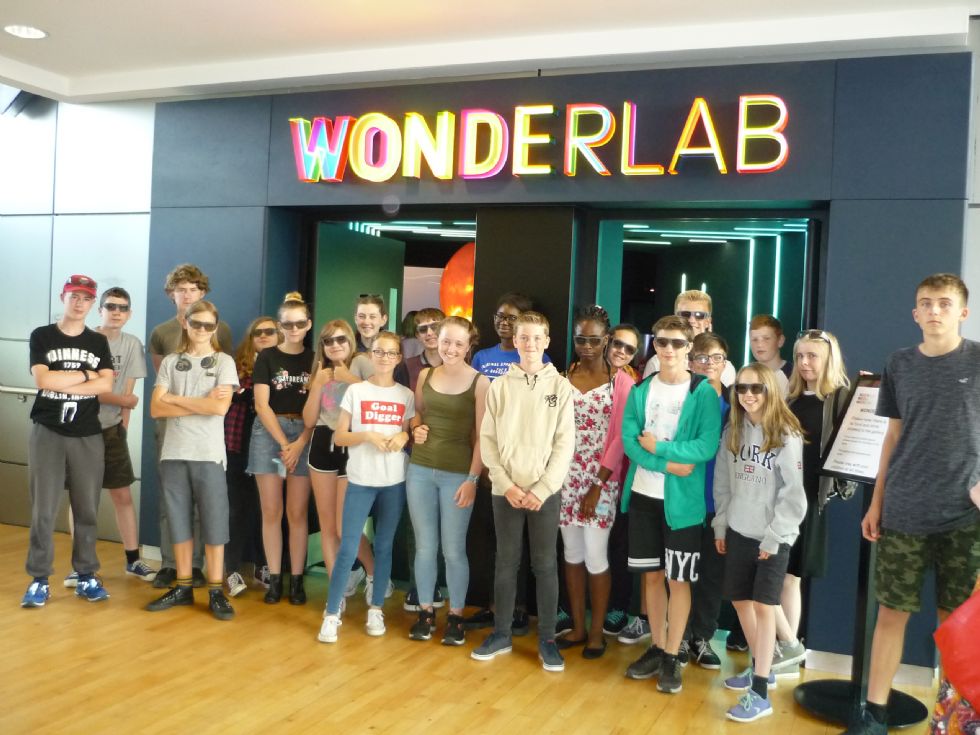 We now look forward to planning more STEAM related workshops, trips and events next year for our UK team of ambassadors, and planning the second exchange trip to our partner school in Germany for another 10 ambassadors next summer.
I would like to thank our team of dedicated STEAM staff for giving up their free time to run this special project this year: Mr O'Brien, Mrs Bellingham, Mrs Ali and Ms Renwick.
Mrs Silverwood