School Governor Vacancies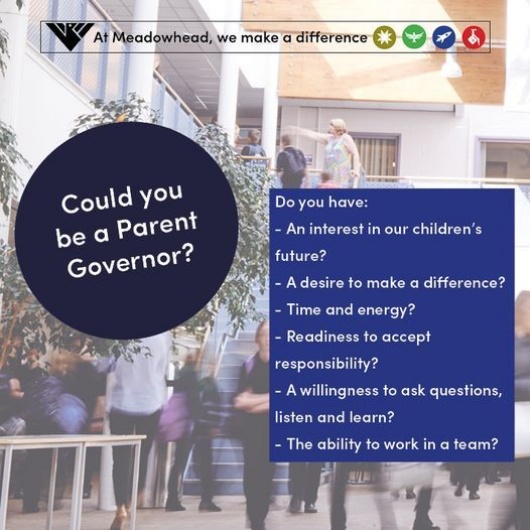 COULD YOU BE A SCHOOL GOVERNOR?
We currently have 2 vacancies for the role of Parent Governor at Meadowhead School in which you may be interested.
Parent Governors bring a wealth of experience and knowledge to the Governing Board and contribute to the successful running of the school. Decisions made by the Board influence the whole school, but Governors are not responsible for day to day decisions – these are the responsibility of the Headteacher and the Senior Leadership Team. Governors set the ethos and culture of the school and support the drive for continuous improvement. We oversee the finances and ensure money is well spent. Responsibility for decisions lies with the Governing Body collectively, not with any one person individually.
All people over 18 who have parental responsibility for a child at the school are eligible to stand for election as a Parent Governor. If you wish to stand for election you may nominate yourself as a candidate.
If you're interested in applying for the role, please CLICK HERE for full information, including the candidate form which must be received by Friday 3rd February 2023. If we receive more applications than there are vacancies, a secret ballot will be carried out. We will inform you closer to the time if we have to do this.