Meadowhead Student Eco Group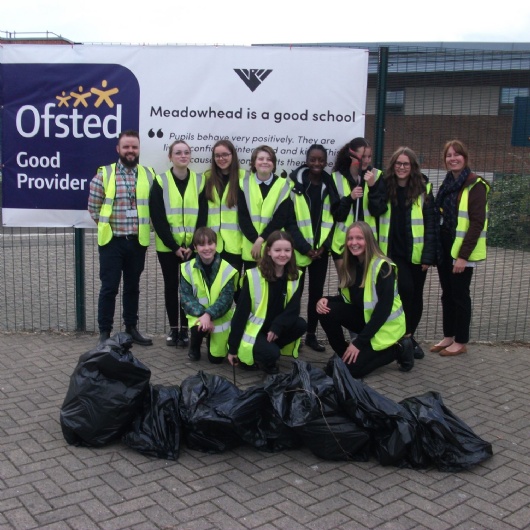 The environment group have been getting their hands dirty this half term, litter picking outside school.

We have made links with Lindy from Greener Greenhill and she has visited our eco club and shared her experiences and ideas for the garden. The club are really excited to start putting their plans into place over the coming months and will be using the money donated by the Meadowhead Community Learning Trust to plant the raised beds and buy gardening materials for use over the coming years.
Meadowhead Eco Group attend the National Schools Climate Assembly

Students from the Meadowhead Eco Group attended the National Schools Climate Assembly on Thursday 20th October, where they joined forces with students from all over the country to discuss and share ideas about caring for the environment, and to get inspiration for our school garden.
They took part in workshops and listened to key speakers including Chris Packham.
The ideas and knowledge gained will be shared with our school community over the coming months.
Introducing our new outdoor classroom
The outdoor classroom is used by the Meadowhead Student Eco Group who are looking into growing plants and crops with the view to attract wildlife, insects and bees. The students are deciding how to begin landscaping the area, and our Technology department are going to build raised beds to plant vegetables in the spring. We have also applied for trees from the woodland trust.
Other students are able to take advantage of the outdoor classroom with mini outdoor sessions, which involve finding, logging and describing trees in the area, making wall hangings and animals out of leaf and stick litter and learning and playing in nature. We will be introducing Forest School sessions in the summer term.