End of Term Arrangements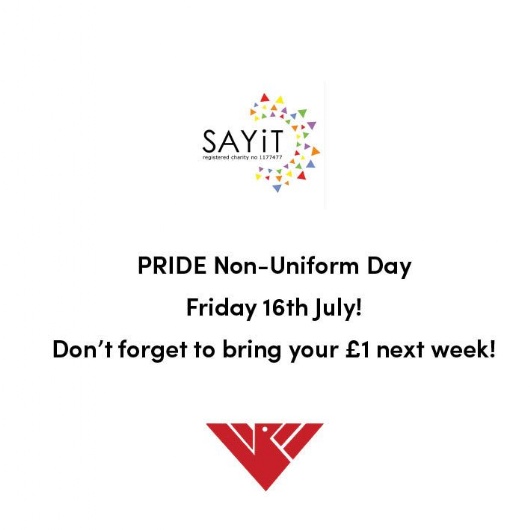 The last day of term is Friday 16th July. This will be a non-uniform day and students are asked to make a voluntary donation of £1. The Student Parliament have chosen to support the local SAYiT charity that supports LGBTQ+ young people and run the local Fruitbowl student groups.
Students will also be able to purchase a PRIDE ribbon to wear on your uniform during break-times next week. We are also encouraging students to wear rainbow themed items of clothing on Friday's non-uniform day.
The school day will end at 12:15pm for all students. Students wanting to purchase a lunch will be able to do so before leaving.
The September Term begins for students on Monday 6th September 2021
Please can we remind our families that uniform is available to order online from Logo Leisurewear for delivery to your home address. Please note that the school sweatshirt is compulsory and can be purchased from Logo Leisurewear.
We wish everyone a good summer and look forward to seeing our students return in September.