Budding Journalists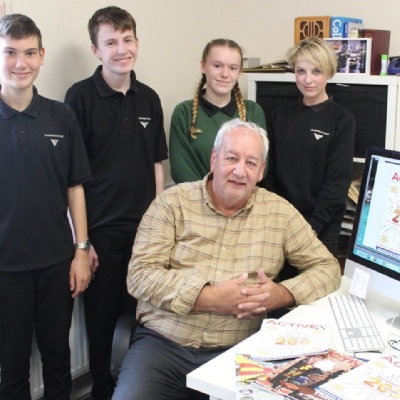 We are pleased to be featured in ACTIVE8 (the local free monthly magazine) thanks to our trust partnership link with Heron publications, and our 4 new teenage columnists who write articles on topics that interest them.
In October four budding journalists visited Heron Publications, the organisation that produces Active8 community magazine. Students gained insight into how the publishing house operates, and met manager and journalist Mike Firth who talked to them about his varied career in journalism.

These 4 students applied for the role of 'teenage columnist' which was advertised exclusively to Meadowhead students, and all 4 impressed Mike so much that he suggested that they share the role of writing a monthly column in rotation for Active8 for the foreseeable future. The first instalment by Isaac (Y11) was published in the November edition and the second by Grace (Y9) in December's, both on page 16.
Isaac said "I've really enjoyed the opportunity to test out my journalistic skills in a column for the first time"
Go to Pg 6 to read about Molly Gray's athletics success,
Pg 10 for the article about the 10th anniversary celebration of our 'Meadowhead community learning trust' and Pg 16 for the column written by Owen Allen (Y9) about supporting British talent into Premiership football.