VE Day Memories and the Meadowhead VE Day Challenge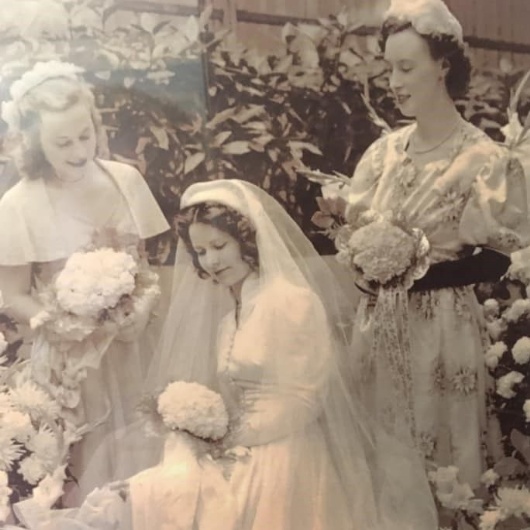 As we begin the lead up to VE Day on Friday 8th May, we would like to share this memory of VE Day which Ms Aitken's (one of our English teachers) mother has written. Mrs Joyce Spence was a teenager on 8th May 1945 and turned 90 years old in February 2020.
We hope all our families will join in the commemorations this coming weekend - we have some ideas for you below (students have also been given a VE Day learning task this week from their History teacher)
I'm sending what memories I can rake up from 75 years ago re VE Day (Victory in Europe Day) May 8th, 1945.
I was 9 when war was declared in 1939 and 15 when it finished in 1945.
There was great celebration when war in Europe ended, the church bells all over the country rang out as they had been silenced during the war, and what a sound that was. In London the bells of Westminster Abbey and St. Paul's Cathedral rang out and people were dancing in Trafalgar Square.
It was a magical time especially for children who had grown up during the war, knowing nothing but air raid sirens, bombing, spending nights in air raid shelters or sheltering under the stairs in our houses while the bombs fell, never going to school or anywhere without carrying our gas masks and losing friends not only in the forces but also in the bombing.
Street parties were quickly organised and everyone dragged their tables into the street to make one long table, along with chairs and benches for all the children and adults to sit on. The tables were covered with red, white and blue paper and where the food appeared from we will never know. We had been on rations since 1940 (and rationing continued after the war until 1954) but everyone managed to produce something for the party. We had sandwiches, cakes and jelly, all the mums managing to contribute some food.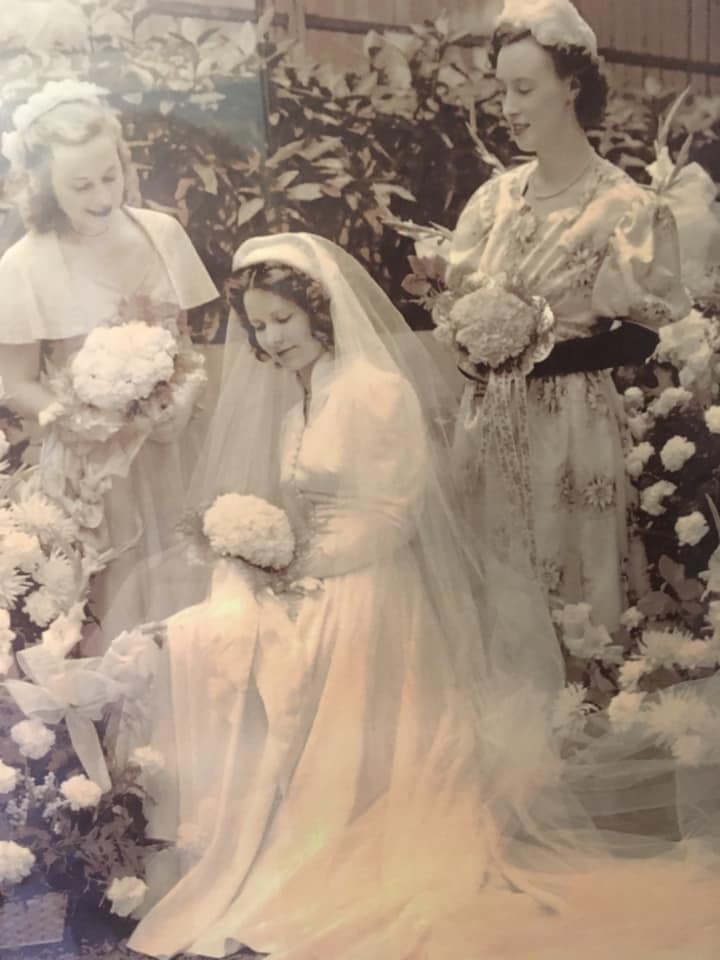 Most areas of the country organised street parties, but because we lived on the main road to Birmingham we were unable to do that, so I went to a friend's street party. I was invited by Elsie Popple's family to join them.
The Union Jack flag was flying from all the bedroom windows, and bunting on string was stretched across the street, and we all dressed in whatever red, white and blue clothes we could find. Gramophones were carried out into the street, or someone dragged a piano outside, so that we had music for dancing. The celebrations went on well into the night.
This scene was repeated in most streets in towns all over the country, as life had been so restricted for 6 years of war, that everyone just let go and enjoyed themselves for the first time for years.
But we also have to remember that the war we fought in the far East against the Japanese in Burma did not end for another 3 to 4 months (I think) so we still had fathers/ brothers/ husbands and boyfriends in the forces fighting the war against Japan, so there were still some families facing great anxiety.
Mrs Joyce Spence
We would like to thank Ms Aitken and her mum for sharing this memory. The beautiful photo here is of Joyce as a bridesmaid just after the war finished (Joyce is on the right)
Why should we commemorate VE Day?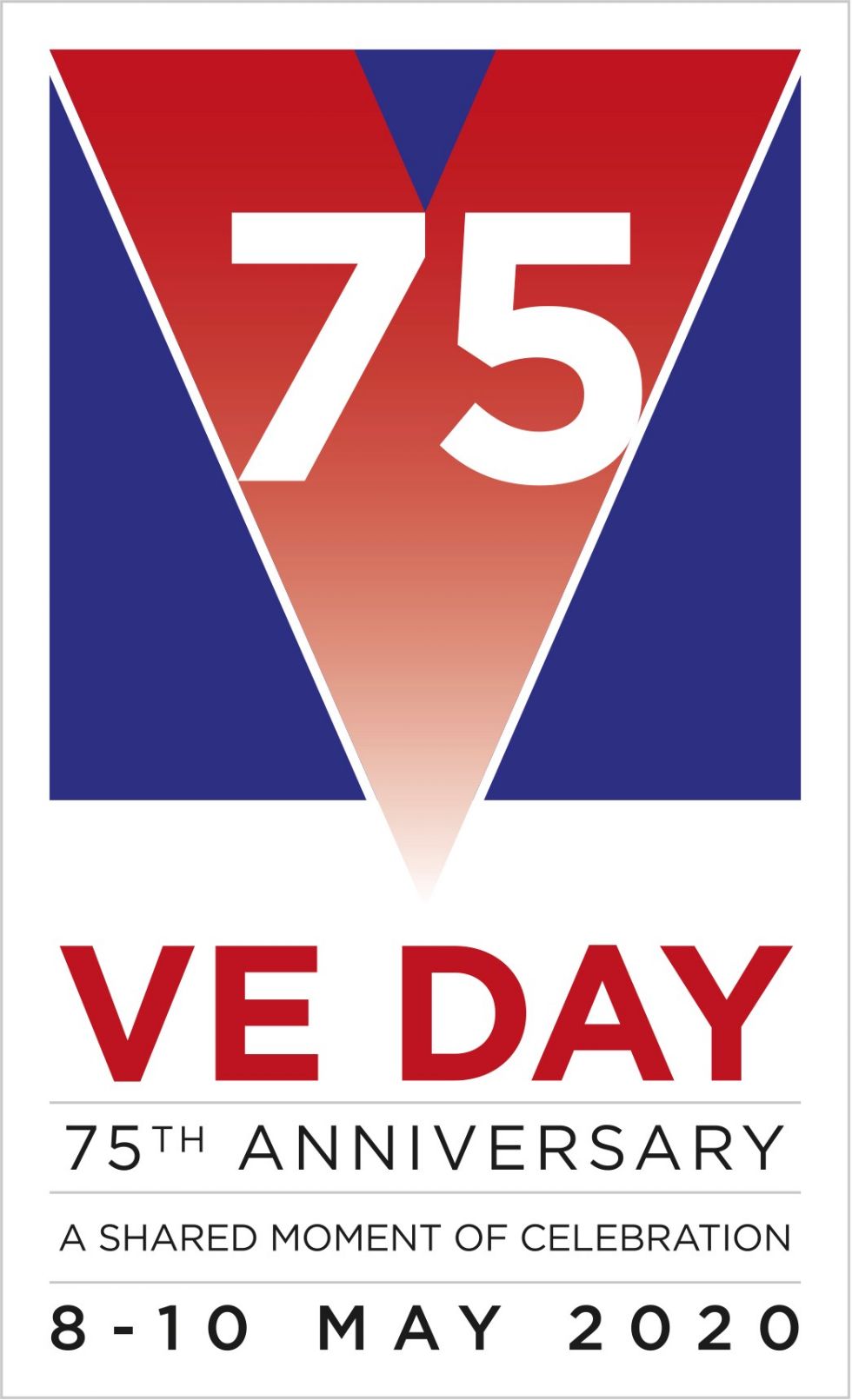 VE Day stands for Victory in Europe Day, which took place on Tuesday, May 8 in 1945. It marked the end of World War II, and was the day on which allied forces announced the surrender of Germany in Europe. The commemorations give us a chance to reflect on the sacrifices made and to make sure we never forget, so that we can never have such a conflict again.
Ideas for taking part - the Meadowhead VE Day Challenge
Despite the social distancing measures in place, there are still ways to join - here are some ideas that have been given as part of the history work for students this week:
Task 1: Plan a VE Day Party!
Street parties were common to celebrate the end of the war. You could plan a party to have at home or over social media with your friends or family!
There are some great ideas of how to hold a VE Day party under lockdown here https://ve-vjday75.gov.uk/plan-your-ve-day-party/. Another website with ideas is https://www.english-heritage.org.uk/siteassets/home/visit/ve-day-75/eh-ve-day-at-home-pack.pdf
These websites include ideas for food, music, and lindy hop dance moves!
Task 2: Bake using WWII rations
Rationing was introduced in Britain on 8th January 1940 and lasted until 4th July 1954. Rationing was a means of ensuring the fair distribution of food and commodities when they were scarce due to the war.
Choose a rationing recipe from the following websites, make it, and see how it tastes!
http://www.recipespastandpresent.org.uk/wartime/
https://www.english-heritage.org.uk/siteassets/home/visit/ve-day-75/eh-ve-day-at-home-pack.pdf
Task 3: Say Thank you
Design a poster or write a letter of thanksgiving explaining why you are thankful to those who lived during the Second World War – remember that this shouldn't just be the soldiers, but the women who worked in munitions factories, the spies who made operations possible, engineers, the politicians who plotted the country's moves, the children who were separated from their families, the medical staff at home and abroad, the people who were key workers who were committed to their essential roles and many more.
Task 4: Make your own bunting!
Bunting was commonly used to signal a celebration. You can make your own special VE Day 75 'Great British Bunting' to display in your window at home to help celebrate VE Day. You could make this out of anything you have at home – paper, cardboard from cereal boxes, material if you are particularly crafty. Follow the instructions here to help you: https://www.bbc.co.uk/programmes/articles/4TrqYDyf4PMdLypxzyTwGDg/great-british-bunting
If you can't make the bunting, you can design it on paper and explain the significance of your design.
Task 5: Interview someone who was at the original VE Day
Perhaps you know someone who lived through the war. If you do, call them on the phone or use Skype, FaceTime or Zoom to interview them about their experience, both of the war, and of VE Day itself. Remember to write your questions beforehand and make sure they are happy to talk about their experiences to you. You could ask them:
What their experience of the war and VE Day was
How they felt once they knew the war was over
Who celebrated with them and was anyone missing?
What is the one thing they remember most clearly about the day?