Trust Choir 2013
The Meadowhead Community Learning Trust (MCLT) hosted our 3rd annual choral concert on 18th and 19th March. This year we adopted a Musicals theme including songs from a host of well-loved musicals such as 'The Sound of Music', 'Singing in the Rain', 'Oliver', 'Billy Elliot', 'Hairspray' amongst others.
152 pupils aged 7 to 18 performed on a specially built stage to sing both individually as school ensembles, with a wonderful finale of songs from 'The Lion King' as a full Trust choir.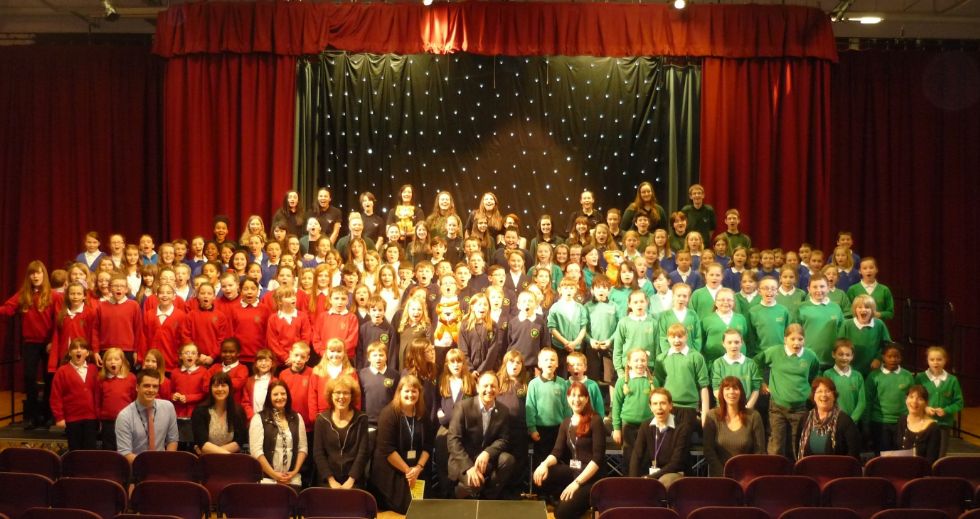 The Trust partners' school choirs comprising Meadowhead School, Abbey Lane, Bradway, Greenhill, Lower Meadow, Norton Free, and Woodseats Primary, took part in the joint musical celebration which was also supported by our Meadowhead Community Learning Trust business partners.
Once again Steve Roberts, of BBC's 'sing live conducted and compered our concert with much humour and charisma. In conjunction with our music co-ordinators in each of our 7 participating schools, Steve worked hard to help the choirs put together an uplifting ensemble of our joint songs, which were thoroughly enjoyed by the packed audience of parents, pupils, staff, and governors.
All funds raised from this event will go towards supporting future Trust projects which aim to raise literacy and numeracy levels of all young people aged 3-19 in the community. Last year's funding supported some valuable joint school projects such as our annual Y6 Summer School, Pupil Mentor scheme, Journalistic Challenge and a 6 week Maths Fun project at Lower Meadow Primary.
We would like to thank all of our students and staff from all of the schools in the Trust community for their hard work and dedication over the past 6months as we prepared for this fantastic event, and we now look forward to next year's collaboration.
Mrs Weale & Mrs Silverwood