Journalistic Challenge 2014
As part of this year's Journalistic Challenge (run in conjunction with the Football League), students from Meadowhead School and its primary feeder schools Bradway, Lower Meadow and Abbey Lane, were at Bramall Lane in February.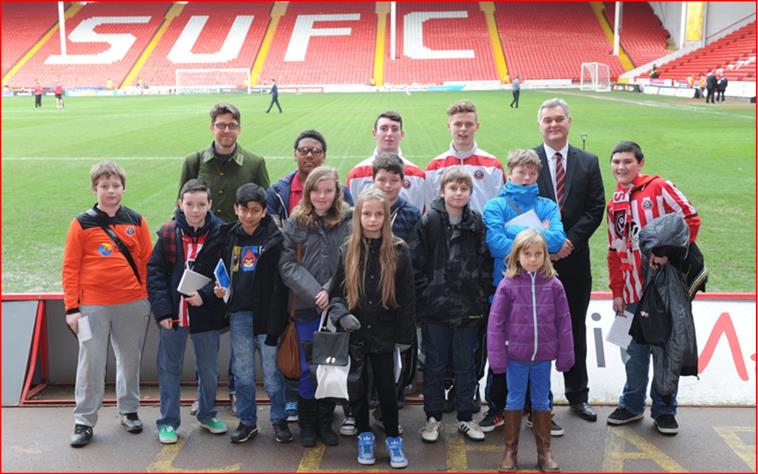 WE'RE ALL BLADES AREN'T WE?
What could have been a cheerless wintry chore among the relegation haunted bottom feeders of League One was given new life by Sheffield United's unfathomable FA Cup success in the weeks leading up to the home clash with Shrewsbury Town. Forty students from Y6, Y7 and Y8 gathered at Meadowhead in the thin February weather and were transported by coach to Bramall Lane, equipped with the reporter's essentials: a pencil stub, a notebook, a scotch egg and an imaginative bent. We were escorted around the stadium, conducted interviews with some players and employees, glimpsed for an instant the gilded match day luxury of those privileged enough to wallow in an executive suite* before being deposited back onto the pavement to join the common herd queuing at the turnstiles.
Early goals for the Blades set the crowd rocking and, thanks to seasoned fans like Rhys Howcutt and George Pemberton, the Meadowhead contingent found their voice and, gentle goading of the away fans aside, the singing was hearty, clean and in the Corinthian spirit.
Notebooks were full at the end of the match and students from Meadowhead, Abbey Lane, Bradway and Lower Meadow returned to their schools to decipher the scrawl and transform it into a report that convincingly evoked the electric charge of the atmosphere and the sensory overload of the stadium lavatories.
Thanks to all involved.
Mr Taylor
Click here to read the article on Sheffield United Football Club's website