Journalistic Challenge 2012
Journalistic Challenge 2012
---
The Journalistic Challenge includes Y7 students from Meadowhead and Y6 students from the local primary schools (Bradway, Greenhill, Lower Meadow, Woodseats, Norton Free and Abbey Lane).This was our second year working in conjunction with Sheffield United to introduce younger members of the trust community to the world of sports journalism and to give them a flavour of the match day experience at Bramall Lane. Educationally, the aim of the challenge is to encourage reluctant writers to put pen to paper by harnessing their enthusiasm for football.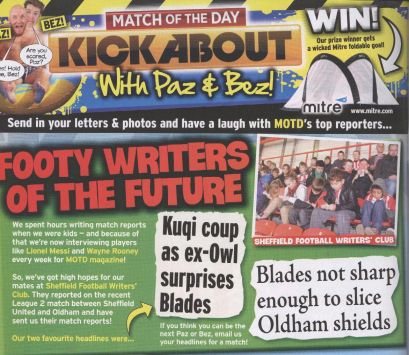 This year, eighty students attended a pre-match workshop after school where they were shown video clips and asked to employ powerful descriptive vocabulary to describe football incidents ranging from the sublime to the ridiculous. One was Pele's ingenious dummy against Uruguay in the 1970 World Cup; the other, Bury's Chris Brass kicking the ball into his own face to score an own goal for Darlington.
We then attended the Sheffield United v Oldham fixture, arriving early to interview some players and back room staff and to have our picture taken on the pitch. Students made notes during the match and attended a second workshop the following week where they had a chance to type up their final report.
They had plenty of raw material to work with as the brittle Blades surrendered a two nil half time lead, imploding in the second half with an own goal, two red cards, a crippling injury and the injury time concession of a penalty, neatly dispatched by ex-Wednesday cult hero, Shefki Kuqi.
The 3-2 defeat was a body blow to everyone but Mr Eastwood, who sat through the second half meltdown with a look of quiet satisfaction on his face. The match reports that followed were stoical yet creative, with choice headlines such as BLADES SLUMP AS OLDHAM SCOLD' EM, ELASTIC LATICS BOUNCE BACK and KUQI COUP AS EX-OWL SURPRISES BLADES catching the eye of the pun purist.
Additional publicity was generated when the BBC got in touch, asking about the Journalistic Challenge and the other work we have done in school linking football with improved literacy. Match of the Day magazine featured the challenge in their national magazine and we hope to liaise with them again next season.
Meadowhead has previously promoted literacy through football, linking educational events with international football tournaments, encouraging teachers to reminisce about World Cup memories, staging football commentary competitions and other related activities. We are also taking part in the Premier League Reading Stars initiative this year, promoting books and reading with the encouragement of Premier League players and the National Literacy Trust.