Academic Support
A formal Academic Support session is held each Thursday between 3-5pm.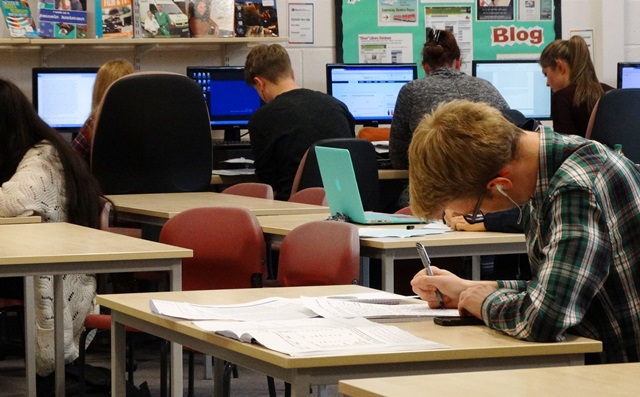 This is an opportunity for students to work in silence, supervised by a member of the Sixth Form staff. Staff teaching A levels can also refer students to this session as a compulsory part of their studies if the student is falling behind or not putting in the required effort.
Students have access to the study area in the Sixth Form Centre and can also use the Learning Resource Centre for private silent study.
Below are websites which we recommend to our students to support their studies:
General:
http://www.s-cool.co.uk/a-level
http://www.revisionworld.com/a2-level-level-revision
https://evernote.com/ Evernote is free and a great way of organising the information you find on the internet so that you can easily refer back to it and also use the website URLs to reference your work
http://popplet.com/ one of the best Mind-mapping tools (app also available on the AppStore)
http://www.onlineschools.org/citation-guide/ a comprehensive guide to a variety of citation styles, including Harvard, which are clearly set out with examples.
http://www.citethisforme.com/uk – (formally RefME) a free reference generator: no need to create an account (by doing so, there is a fee though this means you can track all your references). Just remember to copy and paste your reference into your own word document. Reference websites easily too.
http://www.harvardgenerator.com/references/online-image - ideal if you need to reference an image.
http://www.neilstoolbox.com/bibliography-creator/ Harvard Style Reference Generator for books, journals and websites. Go to the menu and there is also information about plaigiarism and other tips for students.
http://movingonmagazine.co.uk/ a website dedicated to the careers and qualifications options post Sixth Form which includes advice and guidance on University, Gap Year, Career Profiles and Apprenticeships.
https://www.ted.com/ There are a diverse range of TED talks which students can watch to widen their understanding of general or specific topics.
https://www.futurelearn.com/ browse hundreds of free online courses through this user friendly website - great for student enrichment! These courses are known as MOOCs (Massive Open Online Courses) and FutureLearn is in partnership with a large number of UK universities delivering these.
Subject Specific :
Languages:
German
http://www.funwithlanguages.vacau.com/a.htm (General topic revision and practice)
http://www.dw.com/de/deutsch-lernen/s-2055 (background information, news, audio, authentic)
http://www.sowieso.de/
http://www.dw.de/
http://www.tivi.de/
http://www.linguascope.com/ (intermediate section)
Spanish
http://www.asisehace.net/
http://www.elmundo.es/
http://www.elpaís.es/
http://www.conjugemos.com/
English
https://twitter.com/MHEnglishLang (our own account for our A Level English Language students)
http://www.shmoop.com/literature/ (English Literature)
Maths
https://plus.maths.org/content/ Plus magazine provides articles from the top mathematicians and science writers on topics as diverse as art, medicine, cosmology and sport.
http://integralmaths.org/
Philosophy & Ethics
http://www.philosophicalinvestigations.co.uk/
http://www.rsrevision.com/
Art, Design & Textiles
http://www.studentartguide.com/
http://www.aqa.org.uk/subjects/art-and-design/art-and-design-community (A collection of links to many museums and galleries which offer a comprehensive range of free resources to students)
http://www.vam.ac.uk/page/t/textiles/ (the textiles section of the Victoria and Albert Museum)
Chemistry
http://a-levelchemistry.co.uk/
http://www.s-cool.co.uk/a-level/chemistry
http://www.chemguide.co.uk/
Drama
http://www.sparknotes.com/sparknotes/
History
http://spartacus-educational.com/