Y9s vs Tuxford Academy National Cup
Score: 3-0
In the fourth round of the national cup, Meadowhead's Y9's came up across their toughest challenge of the year so far in the form of Nottinghamshire champions, Tuxford Academy, aiming to go one win off their national cup PB if they were to secure the win.
The signs looked good early on as Ehsan Mohammed showed superb strength to set up Ben Hulton but Ben's shot rattled the inside of the post before being hoofed to safety. Meadowhead created more chances after that and began to build on the early pressure and Ehsan Mohammed would surely had scored from the edge of the box, unmarked, had it not been for a horrible bounce in the turf. It was the visitors who created the best chance of the match so far as their lone striker ran through one-on-one but Ted Claxton put in a great tackle to prevent what would have been a clear goal. It was Ben Hulton who broke the deadlock near the end of the half when Ehsan Mohammed flicked on a free kick to Ethan Holloway who squared the ball to Ben Hulton who directed the ball into the top corner with the outside of his right boot. Just before the end of the half, Louis Hutchinson burst down the line and put in a great cross but Ehsan was, once again, denied by an unbelievable point blank save from their keeper.
In the second half, Meadowhead started where they left off: setting up numerous opportunities and defending very solidly. The second goal came when Ben Hulton nutmegged a helpless defender and played in a perfect pass for Louis Hutchinson to slot under the keeper. The Hulton Hutchinson combo was proving to be a good one; Ben Hulton ran past 3 defenders and played a great one-two with Louis only to be smothered by the in-form Tuxford keeper. The third and final goal arrived when Aaron Mushet's ball over the top was chased down by Louis Hutchinson who fired into the bottom right corner and set up a fifth round meeting with a school from Mansfield. And because the Y9 boys did so well, Mr Allen treated us all to a McDonalds!!!!
Report by Joseph N-B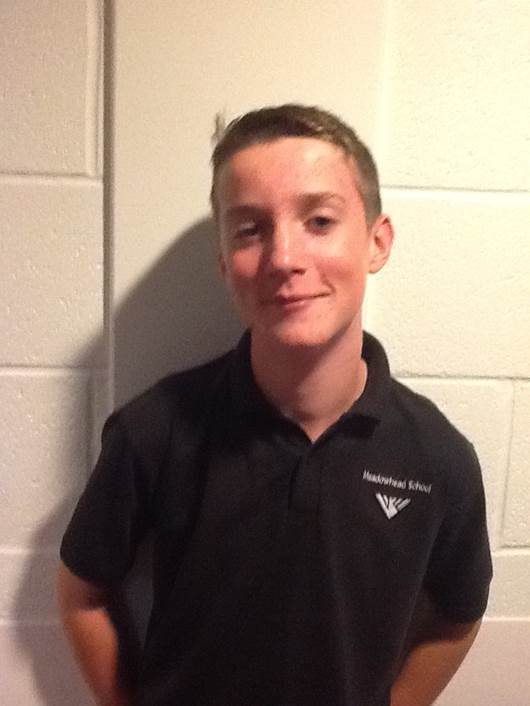 This player received his award of Man of the Match for showing a great attacking game as he scored, assisted a goal and was unlucky not to get a second goal. However, he still helped see Meadowhead to a great 5th round win.